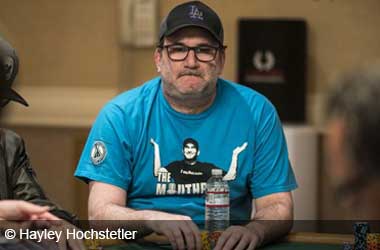 As some casinos in Nevada move to make the wearing of face masks mandatory for all individuals entering their respective premises, a high-profile poker pro has expressed his distaste for the new rule in a series of Facebook rants.
Mike Matusow, otherwise known as "The Mouth", didn't mince his words when he compared the compulsory wearing of face masks to the highly sensitive topic of abortion. The American poker pro's social media rant began on Thursday, June 25, following an announcement by Caesars that anyone who enters their properties, (except children below 10 years old and those with breathing problems), will now be required to wear a face mask.
Governor Steve Sisolak then issued a fresh directive enforcing the mandatory wearing of a protective mask across all indoor or outdoor spaces where it is difficult to observe strict social distancing. The decision comes as Nevada reported record numbers of new coronavirus cases since casinos began to reopen earlier this month.
KTNV Channel 13 Las Vegas
My Body, My Choice
While the measure is intended to protect everyone's health and safety, Matusow believes it shouldn't be obligatory. The four-time World Series of Poker (WSOP) bracelet winner called out the radical left for being "hypocrites" and went as far as challenging the Governor to arrest him because he would not give in to the order, "my body, my choice", he said.
In his rant, Matusow lashed out at apparent inconsistencies when it comes to the guidelines and statements coming from official health agencies, such as the Center of Disease Control (CDC), and the World Health Organization (WHO), which, according to him, had previously warned that "masks are bad".
Curious minds may well understand where Matusow is coming from. A lot of articles have recently been published informing about the negative health effects of wearing a face mask for a prolonged period. Some of these articles have supporting scientific data regarding potential health risks of wearing a face mask, and the false sense of security it gives while the world struggles to cope with the coronavirus pandemic.
Poker Pros Getting Frustrated At Latest Changes
For poker pros who have long been waiting to return to the live felts, changes in regulations and safety guidelines are a major cause for frustration. The live poker scene are among industries hugely affected by the global health crisis and its reopening has been accompanied by major changes in operations and strict health and safety measures, adding insult to injury.
Recently, Joey Ingram also laid out his observations about the current live poker set-up in a new YouTube vlog, comparing plexiglass dividers and bubbles installed at tables to a "prison".
joeingram1
Current circumstances make it hard to predict what the next few months would look like in the live poker arena, however as we continue to fight a common invisible enemy, it's better to be safe than sorry.