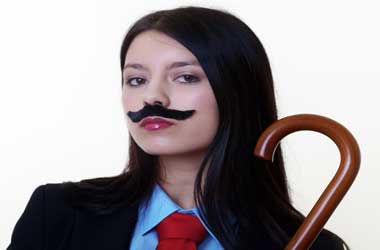 A West Coast female poker pro who writes under the pen name of 'Sia Layta' is about to release a new book called 'Black Widow Poker: A Woman's Guide to Winning a Man's Game'. The book features Layta's experiences in the poker scene and highlights the gender bias that is very apparent in the poker world.
To promote her new book, Layta plans to disguise herself as a man and enter the 2018 World Series of Poker (WSOP) $10,000 Main Event. The move is designed to generate publicity for her new book which is set to be released on April 19 and also to test the level of gender bias at the 2018 WSOP. The WSOP is the most popular poker tournament in the world and the 2018 edition takes place at the Rio All-Suite Hotel & Casino. The Main Event will run from July 2 to 14 and will see thousands of participants who are predominantly male.
Layta states that gender bias is what has kept a lot of women from entering and playing poker. She reports that bullying against women is prevalent in the poker world and has gotten so bad that it causes women to have a different poker experience than men while playing at
the same table.
There is no denying the fact that poker is dominated by male poker pros as is evident from the fact that the WSOP has been around for 40 years but no women has ever won the WSOP Main Event. In 2017, only 272 women entered the main event which recorded a total of 6,949 player registrations. The closest that a woman has gotten to wining the Main Event was back in 1995 when Barbara Enright made it to the final table.
Layta Could Get Banned By WSOP
Layta, who has been playing poker for over a decade, will use fake facial hair and lots of makeup to disguise herself as a man. Should she end up making it to the final table of the Main Event, she will then remove her disguise and prove to the world that women can make in high stakes poker.
WSOP tournament organizers are not happy with the publicity stunt or the fact that Layta wants to use the WSOP as a testing ground for gender bias. The WSOP has issued a warning that if Layta were to proceed with her plan, she could be disqualified for breaching WSOP tournament rules.
Seth Palansky, a spokesperson for the WSOP, says that anyone using a disguise to hide their identity would be disqualified and lose their $10,000 entry fee. He advised that Layta take her planned promotion to another tourney without the above rule.