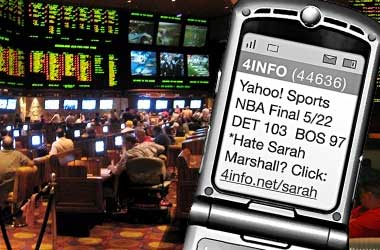 Sports fans in Australia are used to being exposed to gambling advertisements.
Aussies love their sports and betting operators use the player's shirts to boldly advertise their brand. However, it seems that betting operators are taking things to another level branching out into the smart phone messaging advertising realm.
With new gambling ad restrictions stopping them from offering bonuses, the operators are starting to get creative in how they reach potential sports bettors.
Since public advertising is restricted, operators have moved on to private messages as a way to attract potential wagers. This may sound a bit intrusive but research shows that these private messages are particularly effective when it comes to reaching bettors.
This is mainly because many people check their phones regularly and smartphones allow for instant bets to be placed by just clicking on a link, whether in a text or an email.
Research also shows that on days when fans receive these messages, they have an increased chance of betting. Currently, most sports bettors receive an average of 3.7 emails and 2.3 texts per week, while those who bet on races get more, with an average of 6.5 emails and 4.3 texts. Many of these private messages offer promotions that used to be offered in public gaming ads, with an accompanying link.
Regulator Must Step In
The texts and emails that Aussies are getting now are just the beginning. With their effectiveness proven, operators will lean on them more since they also have pretty low price tags. Apart from this, these private messages offer features that television and billboard ads don't have.
For one, gambling operators can personalise each message. Thanks to their individual gambling accounts, operators know what each bettor likes to wager on and when they usually bet. This data can be used to effectively send texts and emails that have a higher chance of bettors responding.
This trend in private gambling messaging is most likely going to force gaming regulators to come out with better regulation. With private advertising, there are lower chances of complaints. Complaints about public advertising are pretty common since it is easy to see them. With private advertising, the general public won't see what gambling operators are up to.
The main reason for the strict laws on public gaming advertisements is because it allows for children to be exposed during sporting events. However, private gambling ads are just as harmful and need robust rules so that they don't encourage problem gambling