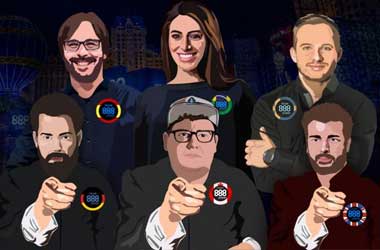 888poker will once again be sending a number of teams to the 2018 World Series of Poker (WSOP) to represent the brand and their respective countries. The best team is set to receive a special 2019 WSOP ME package.
888poker introduced the 8-Team concept, where five teams from all over the world were sent to the 2017 WSOP Main Event for a survival style competition. Each team was led by a team and comprised of a wingman and a qualifier. The player who went deepest into the Main Event was proclaimed the winner.
Joao Sousa Monteiro from Team Brazil was last year's deepest contender, finishing in 583rd place winning $22,449 after qualifying through a $30 satellite. Monteiro took home a 2018 WSOP Main Event package as a prize.
This year, 888poker is changing the mechanics of the competition and will employ a points-based system to determine the winner. At the end of each Main Event day, points will be awarded to the teams based on how long they have remained on the tournament. Each member that lasts through day 1 is awarded 10 points, and then 20 points by day 2, 30 points by day 3, and so on in 10-point increments until day 10. The player at the chip lead is also awarded bonus points for his/her team that is equivalent to the team's daily total points. The last player standing is awarded an instant 100 points.
Team That Wins Gets A 2019 WSOP Package
They are also adding Team Spain to the current team lineups from UK, Germany, Sweden, Brazil and Canada. Unlike last year, where only the last player standing gets the WSOP package, this time, 888poker is awarding a 2019 WSOP Main Event package to the whole team with the most points.
Leading Team UK at the 2018 WSOP is Chris Moorman who won his first WSOP bracelet last year. His online poker career is one to be reckoned, having earned more than $14.5 million in lifetime earnings.
From Team Brazil is Captain Vivian Saliba, whose poker achievements since 2014 has made her one of the more popular female pros. She will try to beat Captain Parker "Tonka" Talbot from Team Canada, who is now one of Twitch's hottest poker streamers.
To lead Team Sweden is Martin Jacobson, known for his best live cash of a jaw-dropping $10 million at the 2014 WSOP Main Event. Team Germany will be under Captain Dominik Nitsche, who has three WSOP bracelets under his belt, and is eager to bag his fourth.
First time to join the 8-Team is Team Spain, which will be led by Captain Marti Roca. Roca is best known for his win at the 2017 WSOP Europe Main Event for $1,297,552. Only the Team Captains have been announced at this point. The wingmen of each team will be chosen before the contest ends on June 4.