Gambling Laws in Australia | Guide To Gambling Laws in Australia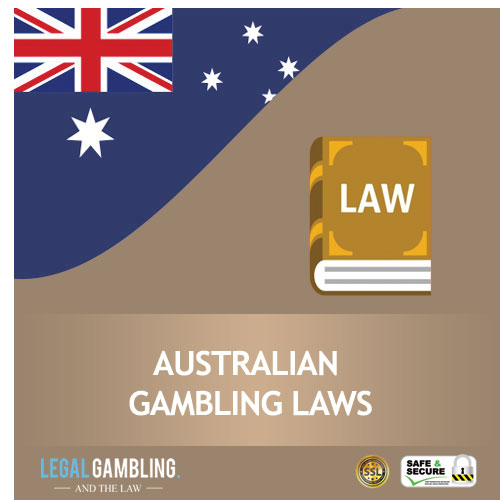 There are so many things people can do in their free time to make life more enjoyable. If you add to it the possibility to get some extra money, who wouldn't go for it?
Moreover, psychologists recommend finding a way to turn your hobby into your job so that you don't need to work a day in your life. This is exactly what gambling represents to the Aussies since, in the land of kangaroos and koalas, it's perceived only as a hobby or recreational activity.
Yet, if you think that the situation hasn't always been that great, think again. It took around 150 years for gambling to reach the position it now has in Australian society.
Since the history is that short, I decided to briefly introduce you to it and take you from there to the present gambling situation in this country.
The following points are the ones I will cover below:
If you are a fan of gambling who considers moving to Australia, this could be a useful way to help you make it or break it. Or it can just be an informative text, it's totally up to you.
The History of Gambling in Australia
Horse Racing In 1810

Gambling is present in Australia for a relatively short time since the first records of it date back to 1810.

As you could probably guess, it was a horse racing event that happened at Hyde Park in Sydney.

However, the way gambling was organised was a little bit different from what we know as horse racing today. The competition was split into three days and, each day, all horses had to run a two-mile race. The winner was the horse whose performance was the best in all three days combined. Therefore, it was much more challenging to win a bet than it is now.

Lottery Introduced

The next form of gambling after horse racing was the lottery. The first lottery game was organised in 1880 in Sydney by a private company called Tattersall's.

As this was the beginning of the lottery system, it was not exactly legal, so these sweepstakes used to move from one state to another after being shut down by the authorities.

Beginning Of Modern Gambling

The more advanced type of gambling came to Australia in the 1950s with the first slot machines.

You could have found them in pubs and clubs respectively, and they officially marked the beginning of gambling as we know it in Australia.

First Casino Opens

In 1973, the first casino was open on the Australian soil, after numerous attempts throughout the years to attain a regular casino license.

Before that, casinos were banned in Australia because they were considered destructive for society and difficult to control.

The gala opening of the Wrest Point Hotel Casino in Tasmania was broadcasted in the whole country.
The History of Gambling Laws in Australia — An Overview
Although all Australian territories have the permission to rule on their own and make decisions about gambling regulations, there is one act meant to protect the Aussies from the harm that gambling can cause.
The Interactive Gambling Act 2001
The Interactive Gambling Act 2001 (IGA) was passed to protect Australians from all the problems they can get into if they decide to spend their time and money on an activity such as gambling. The act itself has several points which explain what is not allowed when it comes to gambling in Australia:
A prohibited interactive gambling service must not be provided to customers in Australia;
Unlicensed regulated interactive gambling services must not be provided to customers in Australia;
An Australian‑based prohibited interactive gambling service must not be provided to customers in designated countries;
Prohibited interactive gambling services must not be advertised;
Unlicensed regulated interactive gambling services must not be advertised.
Now when all the prohibitions are listed, let's see what they actually mean in real time. The act put a ban on the majority of online games, except for auto racing and sports betting. Even the sports betting wasn't allowed in-game, only prior to it.
The act aimed to go after the providers of interactive gambling instead of the customers. It can be applied to providers based both in or out of Australia, regardless of the owner's origin and citizenship.
Yet, as nothing is perfect in this world, gambling operators didn't waste time and very quickly managed to find the loopholes in this act. For example, they managed to go on with in-game betting by accepting bets over the phone.
All this caused the Australian Parliament to fix the IGA and solve all the issues by passing the Interactive Gambling Amendment Bill 2016.
Taxation
The good thing for Aussies is that the money you win by gambling is not subject to taxes due to the following three reasons:
Gambling is not considered a profession; it's treated as a hobby or recreational activity.
The Australian government doesn't see gains from gambling activities as income but as a result of good luck. Even if someone wins big, they also lose a lot in other gambling sessions.
The government taxes gambling operators instead.
As the last point mentioned above states, you as a punter have nothing to do with taxes on your gambling winnings, but gambling operators certainly need to think about it.
Again, the same principle is applied to taxing regulation. Taxes differ from one state to another in a way they are calculated. All gambling operators first must obtain a valid license and pay the fees that come along with it. Once the business develops and the money starts flowing, they can pay taxes on the net profit, turnover, player loss or anything that the state demands.
How is Gambling Regulated in Australia?
Australia is one of those countries in which there is no entity with the overall power over gambling regulations. It is regulated at Federal Level with certain statutes, but also at the State or Territory level.
Since the country is divided into eight separate States/Territories, each of their jurisdictions is responsible for regulating gambling activities within its borders. The list of the regulators in charge of the specific areas is presented below.
Online Gambling Laws in Australia
As we've come to know, Australia has only one act that regulates gambling activities, and it should concern operators more than punters. In other words, if you were wondering whether or not you could get into trouble for gambling online, the answer is no. There is no law that can prosecute you for placing bets online.
What you should think about, though, is choosing the right website to play on. Plenty of sites are more than willing to accept Australian players, as well as the AUD, just do a little check up on it before you deposit your money.
Interesting Facts About Gambling in Australia
Even though it can be said that gambling in Australia is still fresh, there are some interesting facts that connect this country with gambling activities.
The Top Scorer — According to 2019 statistics, Australia is a country that spends and earns the most from gambling operations. Not only it offers numerous types of games, but it also follows the no-tax policy on punters' winnings. If we consider the fact that 80% of adults are playing at least one type of game, you can try calculating the amount of money gathered solely by gambling.
A Two-Up Game
— This is considered the first gambling game played by the convicts in 1788. It is a coin game where you choose one person to be a "
spinner
" The spinner throws two coins in the air, while other players bet on how the coins will fall. They could choose
obverse
, meaning both heads will be up,
reverse
, with both tails up, or the combination of one head and one tail which was called
Ewan
.
The interesting fact is that this game is illegal during the whole year, except on Anzac Day.
The First Automatic Totalisator
— An automatic totalisator was the machine for computing bets that were made on horse races, and it was invented in Australia in 1913.
The inventor was an engineer, George Julius, who worked in Western Australia. Inspired by the amount of bets people made on horse races, he designed a machine that automatically counted tickets and calculated odds and dividends. Later on, he founded the company Automatic Totalisator Ltd and dominated the market for a long time.
Lottery for Charity
— The first government lottery was organised in Queensland, and the primary goal was to raise funds for World War I veterans, as well as for other charities and public goods.
The trend continued later on with the modern lottery. In the 1970s, "Tattslotto" appeared in the state of Victoria, with the idea to raise funds for the state healthcare system.
Pokies
— This is a term that is only used by Australians, and it is nothing more than another name for slot machines.
Aussies prefer pokies
to any other type of a casino game. That's why it's no wonder that Australia is a leading country when it comes to the number of pokies per capita. The statistics show that almost a quarter of the total number of slot machines is located in Australia.
Conclusion
Although Australia is a relatively new country, it certainly has a lot to offer to anyone who is a fan of land-based gambling venues. Being new has its advantages; therefore, apart from the breath-taking natural sights you can enjoy in this wonderful country, you will also find all the modern land-based gambling equipment in Australia's clubs, bars, and designated gambling centers to have some fun at the end of the day.
Unfortunately for the Aussies, online gambling faced some troubles in the past and caused confusion regarding whether or not it is legal to gamble online in Australia. Again, we will emphasize that the authorities don't pay attention to players as much as they do to gambling operators. Nevertheless, If you prefer to stay on the safe side, as I mentioned before, there are plenty of land-based venues where you can indulge in many types of games entirely legally.
FAQs
When was gambling legalized in Australia?
Was gambling illegal in the 1920s in Australia?
What is the legal gambling age in Australia?
Who regulates gambling in Australia?
Can you gamble at 16 in Australia?
Am I allowed to bet online?