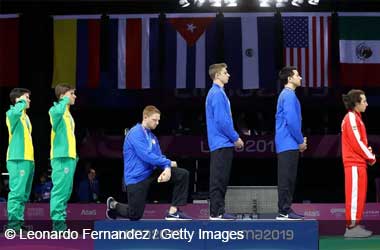 U.S. fencer Race Imboden got the reaction he was hoping for after he decided to 'take a knee' on the medal podium.
He won gold at the men's foil team competition at the Pan American Games in Lima, Peru and decided to kneel on the awards podium as the American national anthem played. His act of kneeling is yet another apparent protest of the political climate in America.
After the ceremony, Imboden who is also an Olympic medallist took to Twitter to explain his actions, saying his gesture was his own call for change directed at U.S. leaders. The athlete further related that he chose to sacrifice his moment of glory to shed light on his country's many "shortcomings".
Some of the shortcomings he highlighted included gun control, racism and the mistreatment of immigrants.
and a president who spreads hate are at the top of a long list.
I chose to sacrifie my moment today at the top of the podium to call attention to issues that I believe need to be addressed. I encourage others to please use your platforms for empowerment and change.

— Race Imboden (@Race_Imboden) 10 August 2019
The 26-year-old Imboden, who hails from Brooklyn, New York, also alluded to his distrust toward U.S. President Donald Trump, citing the chief executive as someone "who spreads hate".
CBS 17
At the 2019 Pan American Games, the American fencer also bagged a bronze medal in men's foil, sharing the award Canadian Maximilien van Haaster. Imboden's teammates Gerek Meinhardt and Nick Itkin, who share the foil team gold with him, remained standing during the national anthem.
A mainstay of the U.S. fencing team, Imboden boasts a record of 12 gold, one silver, and two bronze medals at the Pan American Games, across the individual and team events.
U.S. Olympic Committee Looking To Sanction Imboden
In a statement, U.S. Olympic & Paralympic Committee vice president for communications Mark Jones said that in carrying out the demonstration, Imboden has violated his terms of eligibility.
Jones further explained that U.S. athletes are explicitly told to refrain from demonstrations that are political in nature. While the official respects the American fencer's right to express his opinion, the U.S. Olympic body is currently reviewing what sanctions or consequences may result from Imboden's actions.
This is not the first time the Tampa, Florida-born fencer has taken a knee on the podium. Imboden and a teammate reportedly mounted a similar protest at the 2017 World Cup in Egypt. However, this time around his actions could cost him as though he is a top performed, he could very well be dropped from the Olympic team for the 2020 Olympics in Tokyo.
Imboden hasn't been alone in using his sports platform to express dissent and protest the Trump administration.
U.S. hammer thrower Gwen Berry reportedly raised her fist during the national anthem also at the Pan-Am Games. In an interview, Berry expressed that somebody has to stand and rally against all the injustices happening in America.