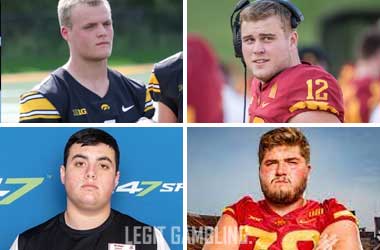 Summary:
The athletes were fined $645 each.
All five individuals could have faced up to two years in prison.
Tampering charges were dropped with the guilty plea.
The criminal portion of a case involving five athletes from the University of Iowa and Iowa State is now concluded with fines of $645 issued.
The athletes pleaded guilty to misdemeanor charges and avoided prison time of up to two years after tampering charges were dropped.
Eligibility Penalties Still Under Consideration
While the criminal charges are done, the athletes may still face penalties for eligibility to play at their universities due to their gambling actions. UI Kicker Aaron Blum may be suspended indefinitely for betting on a college football game involving the Hawkeyes.
Quarterback of ISU, Hunter Dekkers and Lineman Dodge Sauser may also be punished for betting. An attorney for Dekkers, Sauser, and Iowa State's Jacob Remsburg, released a statement after the ruling that said the original tampering charges did not fit the case and were not legal or factual charges. The only thing the kids did wrong was to gamble before they turned 21.
Negative Effect on the Gambling Industry
This case and others like it may have a negative effect on the gambling industry, particularly bringing online gaming to new areas of the United States. Online gambling opponents often argue that they feel the services cause harm to minors and can bring about gambling addiction.
Cases popping up on a consistent basis involving underage gambling and illegal betting by athletes give opponents even more firepower against gambling legislation. States with legalized sports betting have specific rules that include no underage betting, no wagering by athletes, and bets involving local colleges or universities.
These rules vary of course but are essentially very similar state by state. It's important that individuals who break the rules are held accountable to ensure the integrity of the gambling industry as a whole. Hopefully, such issues will not deter gambling expansion across the US but allow regulators to show how services can be offered and the rules followed, including punishment for those who violate regulations.
Will online gambling and sports betting services be hindered by players' actions like those of Iowa State and the University of Iowa? Only time will tell. For now, the athletes are a shining example of what can go wrong when you break gambling regulations.
We should see in the coming weeks if the athletes will be able to play in the future or if they have hindered their sports careers by betting before reaching the legal age of 21.