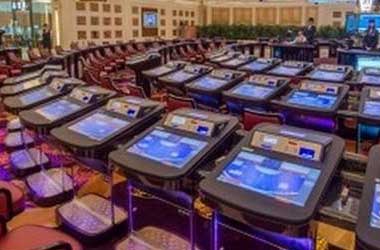 Brokerage firm Union Gaming Securities has predicted a slowdown in the growth of electronic table games (ETGs) seats in Asia as a result of the anticipated drop-off in casino openings in the next couple of years.
In its annual report covering ETG market for Asia, analyst Grant Govertsen pointed out that with much of the new casino developments in Macau in their last stages, ETGs would grow at slower pace next year.
In a statement Grant Govertsen said
With the bulk of Macau's new development wave now in the rear-view, and some of the more meaningful developments more than a few years away (e.g. Japan), our forecast of new ETG seats is rather modest through the end of 2018 at only 1,150 new seats. Of these 1,150 new seats, about 65 percent come from just three properties: MGM Cotai, Jeju Shinhwa World (the former Resorts World Jeju), and Grand Lisboa Palace.
MGM Cotai developed by MGM China Holdings Ltd is slated for a fourth quarter opening this year. Grand Lisboa Palace being built by SJM Holdings, is set for a 2018 opening. The launch of Jeju Shinhwa World is expected to take place in late 2017. It is being developed by Hong Kong firm Landing International Development Ltd. The total number of new installations projected until 2018 represents possible revenue of around $24 million.
IGT
According to the report, demand for ETGs beyond 2019 is likely to come from developments in Vietnam, Manila, Vladivostok, Incheon and Jeju. The most significant market is expected to be that of Japan which has been recently legalized, but the first casino will open only in 2021 or beyond. .
Govertsen noted that while the regions covered in the report would add up to 12,700 ETG seats, the total number might go up to 14,000 or more if additional geographies not covered in the report are also considered.
The report has revealed that on a same-market basis the growth during the last year is around 1,200 ETG seats largely from the opening of three integrated resorts – Okada Manila in the Philippines and Wynn Palace and Parisian Macao in Macau. Stadium-format multi-games, much preferred in Macau are on top with a 49 percent share. Roulette which is popular outside Macau follows with 28 percent.
In terms of ETG manufacturers, LT Game Ltd. leads the market with 36 percent share as result of its dominant position in Macau. Others in the top five are Alfastreet, Interblock, Aruze, and Scientific Games.