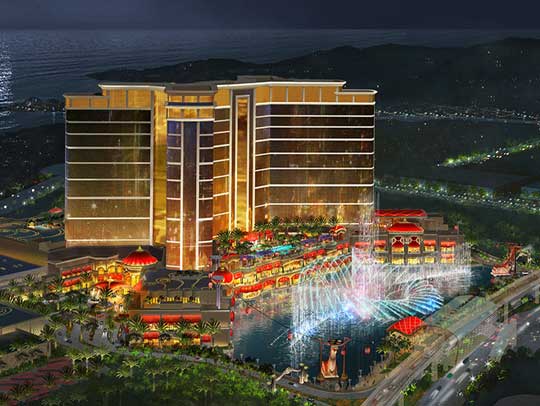 Wynn Resorts was scheduled to open its third casino 'Wynn Palace' on Macau's Cotai strip sometime in March 2016 but the company recently announced that it would have to postpone its launch date due to a number of construction delays.
The mega-casino resort which is estimated to have cost around $4.1 billion is now expected to open on the 25th of June 2016.
Leighton Holdings Ltd, the general contractor for the Wynn Palace had informed Wynn Resort executives that it would not be able to complete all construction activities before the initial March deadline and requested for more time. The resort will consist of 1,700 hotel rooms, an 8 acre performance lake, luxury retailers, upscale restaurants, spas and a large gaming floor.
Wynn Resorts had generated more than 70 percent of its revenue from its Macau operations but since the anti-corruption crackdown, Wynn Resorts has experienced a huge decline in revenue and is the worst U.S hit casino in the region with share prices declining by as much as 60 percent during 2015.
Steve Wynn, the billionaire and chairman of Wynn Resorts had remained optimistic during the last 17 months as gambling revenues in Macau continued to decline as the Macau government continued its tough stance on anti-corruption and advising casinos to focus more on non gaming activities. But in October 2015, Steve Wynn ran out of patience and criticized the Macau government for following policies that he termed as baffling.
Wynn was particularly critical over the fact that his company had invested over $4 billion to build the Wynn Palace and even as the launch date approached, the Macau government was yet to confirm on how many table games would be sanctioned at the Wynn Palace. Steve Wynn was very critical of these new policy changes and the hard stance taken by the government to the casino industry stating that this lack of information and transparency made it extremely difficult for his team to plan their hiring and training needs for the Wynn Palace operation.
Macau Chief Executive Fernando Chui recently released a statement which confirmed that Macau's gaming industry would continue to decline in 2016. A number of top gambling organizations had set up new casinos on the Cotai strip as when they started construction Macau's gambling market was the fastest growing market in the world. Both the Galaxy Entertainment Group Ltd and Melco Crown Entertainment Ltd have opened new casinos in 2015 and with Wynn Palace being launched in 2016, Macau may find itself for the first time with too many casinos and too few gamblers.