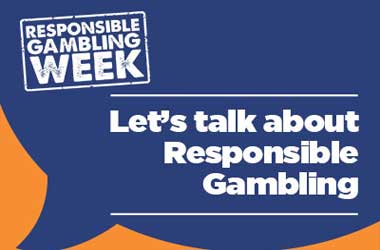 The 'Responsible Gambling Week' is an annual event that takes place in the United Kingdom in a bid to educate and promote responsible gambling throughout the country. Ireland has also held a Responsible Gambling Week in the past but this time around both Ireland and the UK will team up for the first time to hold a joint promote that runs from Nov 1 to Nov 7.
This co-promotion will see as many as eleven thousand gambling operators which include online as well as land base casino operators team up to push responsible gambling measures. The campaign will also have one hundred and twenty organizations on board who support the push for responsible gambling throughout the UK and Ireland.
This special Responsible Gambling Week promotion is backed by over 800 bookmakers in Ireland, the United Kingdom Gambling Commission (UKGC) and responsible gambling organizations such as GamCare, GambleAware and Young Gamblers' Education Trust. The theme for the week will be "Let's Talk About Safer Gaming."
Responsible Gambling Week
In a statement, John Hagan, Chairman of the Industry Group for Responsible Gambling said
It is heartening to see the support of leading operators for Responsible Gambling Week. Our aim is to make the event bigger and better than last year, and we are using the collective networks, venues and staff of all gambling sectors, and our digital channels, to reach a wider audience and raise awareness
Let's Talk About Safer Gaming
There has been a massive increase in gambling addiction throughout the UK and Ireland during the last few years and both governments have been forced to recognize and deal with the increase of gambling addiction in minors as well as adults.
While gambling regulators and advertising watchdogs have stepped up efforts to limit the impact of problem gambling, there is a lot more that can be done and the Responsible Gambling Week will look at some of the additional initiatives that can be taken by gambling operators as well as players to protect themselves from being exposed to gambling addiction.
The week long campaign will look at the importance of having open lines of communication, following throughout with practical advice and getting help before things get out of hand. Gambling addiction organizations will look at providing better education as well as steps for gamblers to identify how to recognize signs of addiction and get the help they need at the earliest.