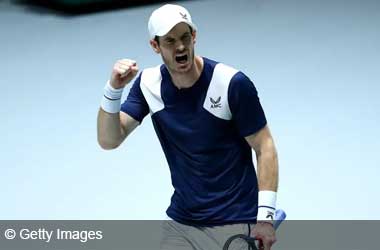 Andy Murray's hip injury threatened to end his career and send him into retirement.
The former world number struggled to perform due to this serious injury which eventually took him out of the game for a number of months.
Murray who won 3 Grand Slams suddenly found himself on the sidelines and unable to play the game he loved.
He came to a place where he thought he would get the surgery done and pull down the curtain on his career. However, his wife Kim urged him to not give up on his dream and retire early.
Murray is back to playing tennis but is taking things slowly. He is currently playing at the Davis Cup Finals where England took on the Netherlands and came out on the winning side against Tallon Griekspoor who was ranked 179. While the UK and Andy Murray will be happy with the win, it wasn't the Andy Murray of old as he looked sluggish and heavy.
The 32 year old was quick to admit that he feels a bit heavy and believes he needs to lose a few more kilos in order to get back to his ideal weight. He was pretty honest in his assessment stating that he did not watch his diet during the birth of his son and the fact that he was not training at the time caused him to put on the extra weight.
However, the extra weight isn't the only problem that Murray will have to deal with as he has to overcome the emotional stress of making a comeback and getting back to being one of the best in the world.
Injury Caused Emotional Stress
Murray admits that he went through a lot of emotional stress during his hip-injury and surgery and that left him feeling down in the dumps. It also put a strain on his marriage but thankfully they were able to work things out and come out on top. Amazon is coming out with a documentary later this month titled "Andy Murray: Resurfacing" that covers the injury and how Andy Murray coped with it.
England decided to rest Andy Murray during their David Cup clash against Kazakhstan which they went on to win. Their next challenge is a lot tougher as they take on Germany. Davis cup captain Leon Smith faces a tough decision as he needs to take a call on whether to include Andy Murray in the team or leave him out as he is not playing as well as before.