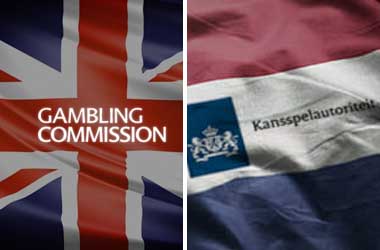 The UK Gambling Commission (UKGC) and the Kansspelautoriteit (KSA) in the Netherlands have entered into an agreement that will allow the two gambling regulators to share regulatory best practices that will help them benefit mutually in policing and regulating their respective gaming markets.
The UKGC is one of the most respected gaming regulators in the world and has extensive experience in regulating both land based and online gaming operations.
The Netherlands is expected to launch their regulated iGaming market on October 1 and are looking to get everything in place to run a successful iGaming operation.
The KSA and UKGC signed a memorandum of understanding (MoU) that will allow the two watchdogs to collaborate, share knowledge and open channels for communication that will allow them to benefit from the strengths of each other.
René Jansen, chairman for the KSA said that the MoU will show gaming operators that co-operation and collaboration is taking place at an international level as they realize that it was important for gaming operators to be able to offer games of chance across borders.
European states have the responsibility of regulating their respective gaming markets based on their policies and procedures. However, the European Union (EU) has encouraged its member nations to collaborate with each other and put in place a standard and share best practices to bring about uniformity of regulations through the EU.
KSA has acted on this advice as the gambling regulator has approached a number of different gambling watchdogs in 2020 to learn from them and set up robust gaming regulations for its iGaming market.
Some of the gambling watchdogs that the KSA has teamed up with in the recent past include the Malta Gaming Authority (MGA), the French gaming regulator Autorité Nationale des Jeux (ANJ), Gambling Inspectorate Spelinspektionen which is Sweden's regulator and the Belgium Gambling Commission (BGC).
KSA Can Also Learn From UKGC Failures
While the UKGC is one of the most respected gaming regulators in the world, the UK gambling regulator has dropped the ball on multiple occasions. The KSA should definitely be looking at these weaknesses as well and take steps to ensure that they don't fall into the same trap.
The UKGC has been accused of being too lenient with gaming operators and allowing problem gambling numbers in the UK to skyrocket. KSA is expected to roll out stringent measures that will offer better protection to vulnerable players and keep iGaming operators in check.