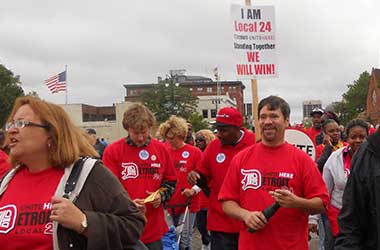 Detroit union members from the MGM Grand Detroit, Greektown Casino and the MotorCity Casino have been in talks with casino executives over obtaining better benefits for their employees, especially with regard to healthcare.
Those talks have been going on since August and both sides have been unable to come to a mutual agreement.
Things escalated this week when the 6,000 strong Detroit Casino Council decided to strike in an effort to pressurize the casinos to give into their demands and make a decision quickly.
The city of Detroit has gone through tough financial times and the casino industry is responsible for bringing in around 16% of the total gaming revenue of the city. Detroit's casinos are also one of the biggest tourist attractions in the city and this strike will not only hurt the concerned US casinos but also the city.
Both federal and state negotiators have been part of the initial talks and recently advised both parties to take a break and 'cool-off' and then resume talks. The Detroit Casino Council did not think it wise to wait any longer and decided to strike and see if these new tactics will help the casinos make a decision quicker. The secretary treasurer of Teamsters Local 372 Dave DeLong said that one of the main things that union was fighting for was the healthcare plan as casino workers wanted to keep the same coverage without having to pay more but this was something the casinos were not willing to agree to.
MGM representatives have made it clear that they cannot afford to meet these demands as the total healthcare expenditure for the three casinos will rise by $46 million during the next four year contract. MGM has stated that if the union wants the same healthcare coverage, then there would be hardly any cash left to provide wages or bonuses to its employees.
In a statement, Steve Zanella, president and chief operating officer of MGM Grand Detroit, said
MGM Grand Detroit remains committed to the negotiation process. Along with the other Detroit casinos and the unions representing our workers, we are eager to work toward a contract that works for everyone.
A representative for all three casinos stated that the unions need to discuss and finalize what their priorities are and then it will be easier for everyone to decide how the budget is going to be spread across those priorities.