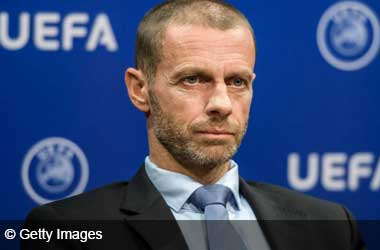 The president of the Union of European Football Association (UEFA), Aleksander Ceferin, acknowledged this week that racism in European football was a real problem; he further admitted that he did not have full awareness of how deep the problem was when he accepted his position in 2016.
UEFA has been criticised for their lacklustre response to a series of racist incidents that occurred this year.
Some of these incidents saw top players like Romelu Lukaku and Mario Balotelli having to endure monkey chants in Italy, and England's black players had to hear racist abuse hurled their way in a Euro 2020 Qualifier in Bulgaria.
After a short investigation, UEFA sanctioned Bulgaria by compelling them to play their next home game without a live audience, and another match pushed back by two years, as well as fining the Bulgaria football union €75,000.
VISIONSPORT TV
According to the Football Against Racism in Europe (FARE), the sanctions sent a weak message to Bulgaria, especially considering that Bulgaria has had two previous offences this year. Black players have been especially critical of the way UEFA has handled such offenses. It is only recently that Ceferin has conceded that their contentions may be right: a stronger approach is required to quell the worsening issue of racism in UEFA games.
Ceferin: Racism Is Not Just A Football Problem
Ceferin stressed in an interview that his office is listening to the complaints lodged against both the epidemic of racist abuse in UEFA games as well as his office's perceived tepid responses. Ceferin was the president of Slovenia's football association before he took on UEFA presidency in 2016. He stated that the problem may extend farther than just football.
Ceferin stated that European politicians must be ready to take some of the blame for the seemingly growing cases of racism in football, as they have allowed racism to flourish in their own countries, which then spill over to sporting events.
He noted in particular the hypocrisy of British Prime Minister Boris Johnson, who criticised Ceferin's response to the Bulgaria debacle, calling for tougher sanctions on racism in football. Ceferin rejected Johnson's criticism, calling Johnson's pleas disingenuous.
Johnson has publicly engaged in racist discourse. Johnson has referred to women wearing burqas as "letterboxes" and has described black people as "tribal warriors with watermelon smiles". He has yet to apologise or acknowledge the racist implications of his language.
We will have to wait and see if UEFA's new focus on racism changes things in 2020.