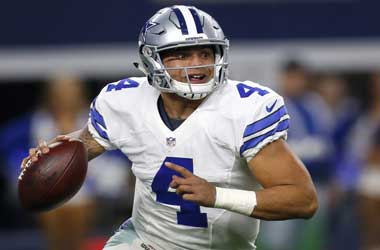 Dallas Cowboys' starting quarterback Dak Prescott has had a disappointing sophomore campaign to say the least. Just one season after going 13-3 and winning the NFC East, Prescott and the Cowboys have been officially eliminated from the playoffs, after a loss to the Seattle Seahawks this week.
When asked about the season he has had so far, Prescott said that it made him have more respect for the league, the game of football, and the amount of preparation it takes to be great in the NFL. Prescott had an outstanding rookie season and the Dallas Cowboys expected great things from him this season. However both Prescott and the Cowboys could not deliver and find themselves eliminated from the playoffs.
Die-hard Cowboys fans can argue that the team's performance was impacted by the absence of a number of their top players who were unable to start due to various reasons. Prescott cannot make that same excuse as he has played every game this season so far and has failed to impress with his numbers.
ESPN
The most alarming numbers are the increased interceptions. They climbed up to 13 this year compared to just 4 for all of last season. The other cause for concern is the significant drop in quarterback rating which went down to 86.7 percent from 104.9 percent. These numbers indicate that Prescott has begun to make poor decisions on the field as he is made to be a bigger part of the offense.
These numbers don't portray Prescott in a good way but it will give the Dallas Cowboys and Prescott an indication as to what they need to work at going forward. Dallas has a long history of successfully grooming young quarterbacks for success, and this season most likely will be contributed to a sophomore slump. The best news for Prescott is that he has the backing of team owner Jerry Jones. When asked about his second year quarterback, Jones stated that Prescott has a very bright future ahead of him.
After the season finale in Philadelphia against the Eagles (13-2), the Cowboys (8-7) will likely have to find several key pieces on the offensive side of the ball to complement Prescott and running back Ezekiel Elliot. The most glaring hole that needs to be plugged for the Cowboys is the wide receiver where an aging Dez Bryant is a shadow of his former self. Prescott remains positive and is confident that the Cowboys will come back stronger next season.
In a statement, Prescott said
We are not giving up on this team. We are not giving up on ourselves. We know we are not making the post-season, but hopefully it will motivate us