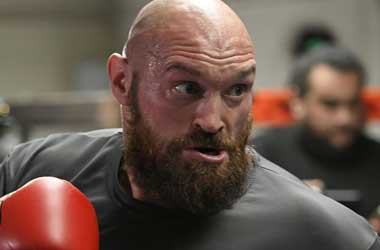 The boxing world has been waiting for Brit Anthony Joshua to fight American Deontay Wilder for the last couple of years and while the two boxers have flirted with the idea of signing a contract, nothing ever came of it. Wilder will have to make do with another impressive British heavyweight fighter as he is scheduled to take on Tyson Fury on December 1, originally set for November.
The two boxers have completed their world-tour promotion and have gained a lot of attention for their antics.
However, both boxers are now seriously training and preparing for what could be a potential fight of the year.
Fury has an impressive record with 27 wins, no losses and 19 of those wins coming by knock-out. The British heavyweight boxer defeated Wladimir Klitschko in November 2015 and won the WBO, IBF and WBA world heavyweight titles but then hit a roadblock as he faced challenges in his personal life and had an emotional breakdown.
He quit boxing and went on a drink and drug bender which saw him gain a massive amount of weight (400 lbs) and fall into heavy depression. He finally managed to break the downward spiral and announced that he would make his return to the ring which surprised everyone. However, his determination and fighting spirit cannot be questioned and he went on to win two fights in 2018 against Sefer Seferi and Francesco Pianeta.
Fight Hub TV
Fury knows that he has to be in top shape if he is going to go the distance with Wilder – who is known for his fitness. That's why he has decided to train at Big Bear where the altitude is a lot higher and does wonders for one's cardio.
In a statement, Fury said
I've been training up there for two weeks and feeling like dog every day. I feel like I can't do five rounds up there because I can't breathe. So we wanted to see if I'm fit or not. We've come down and I've done 12 rounds here today at lightweight pace, and I smashed it. So I'm fit
Wilder Sparing Top Partners
Wilder has a professional record of 40 fights, no losses and 39 of those victories came by knock-out. The American knows is focusing on his sparring and has brought in some top boxers including New Zealand heavyweight Junior Fa who has given him some great rounds.
Wilder knows that if he can knock-out Fury, then he might get his wish to fight Anthony Joshua next and show the world that he is indeed the baddest man on the planet.