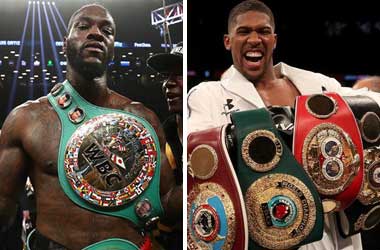 US WBC Heavyweight champion Deontay Wilder has been called out for a title fight with UK Heavyweight champion Anthony Joshua for a number of months.
This is the heavyweight bout that boxing fans across the world are clamouring to see as the fight will cement who the baddest man on the planet really is.
Anthony Joshua is the unified IFB, WBA and WBO champion and a win over Wilder will see him hold all four heavyweight titles. The 28 year old Joshua is undefeated in 21 fights and 20 of those fights have been via KO.
Joshua has a cult following in the UK and his fights sell out stadiums pretty quickly.
His manager Eddie Hearn is keen on getting Deontay Wilder to fight in the United Kingdom as it will give Joshua the home advantage and support. Hearn has been accused in the past of trying to protect Joshua from Wilder but has now come out and said that he has sent a contract to Wilder to fight in the UK and has stated that he will pay the American fighter a flat fee of $12.5 million. Hearn wants Wilder to sign the contract quick so that the fight can take place in October. Any delays by Wilder will most likely result in Joshua signing a contract to fight Alexander Povetkin who is the next WBA contender.
Mayweather Boxing Channel
Wilder Agrees To Fight In The UK
The back and forth over this fight continues over social media as Wilder took to Instagram to announce that he is fine to fight in the UK or the US. Wilder's camp offered Joshua $50 million earlier this year to fight they said that the $50 million offer still holds good.
The proposed agreement with the two fighters should be signed over the weekend or early next week. If for some reason that does not happen, this fight will most likely not take place in 2018.