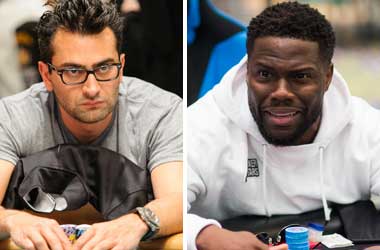 After almost a year of preparation, poker pro Antonio Esfandiari emerged victorious in a boxing match against Kevin Hart.
The poker pro faced the comedian/actor in a gym in Santa Monica, California over the weekend. Both battled it out in three rounds, each lasting three minutes and Esfandiari came out on top.
In an interview with TMZ Sports in July 2018, Esfandiari revealed he and Hart would engage in a real-life boxing match in 2019. Recognizing that Hart was in a much better shape than him, Esfandiari said he had 35:1 odds of winning the fight, and he would rely on his reach and weight advantage to compensate for the actor's athletic prowess.
The idea of a boxing prop bet came out when Esfandiari and Hart were just hanging out and playing poker. Esfandiari has a habit of engaging in some crazy prop bets as who can forget his infamous lunge prop bet with Bill Perkins at the 2016 PCA.
Esfandiari initially said they would face each other in a ring in March 2019. He did not disclose the amount of bet and the odds given, but Esfandiari considered himself the underdog in the match. No surprises as Bill Perkins was also involved in the bet and termed Esfandiari's victory as a 'Rocky Balboa' moment.
Phil Laak and his long-time girlfriend Jennifer Tilly were in attendance to cheer for Esfandiari.
Hart Congratulates Esfandiari
Hart wrote a congratulatory message via Instagram saying that Esfandiari worked hard and deserved the win. Both put on a good show and the actor said he wanted a rematch. Expressing respect for the sport of boxing, Hart stressed that they are not fighters and that the match was put together as a challenge between two good friends. Highlight videos of the match will soon be released to the public.
In January 2019, Esfandiari said he was a favourite to break his rib or nose in an upcoming boxing match with the comedian. But the poker pro remained focused and committed, and was undeterred by the likelihood of injury. Less than four months later, he went on to win the fight via decision and came out unscathed.
Poker Pros Engage In Combat Sports Prop Bets
This is not the first time that a professional poker player jumped inside the ring to accomplish a prop bet. In 2016, J.C. Alvarado and Olivier Busquet engaged in an MMA match, with a six-figure bet involved. Bertrand Grospellier also faced Lex Veldhuis in an MMA-style fight in Spain in 2011. Two years before that, Gus Hansen and Theo Jorgensen stepped into the ring in Copenhagen to settle a prop bet.