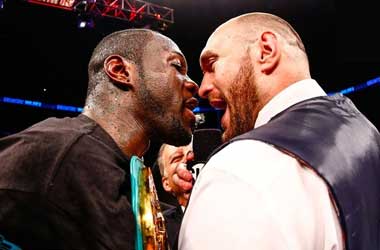 The boxing world has eagerly waited for American Deontay Wilder who is the WBC heavyweight to fight Brit Anthony Joshua who is unified heavyweight champion of the world and holds three out of the four top heavyweight championships.
Wilder's team has campaigned hard for the fight but nothing materialized with Joshua being forced by the WBA to fight Alexander Povetkin his mandatory challenger much to the disappointment of boxing fans. However, they were thrilled to learn over the weekend that Wilder will now fight another Brit in Tyson Fury.
Fury has confirmed that he has signed a bout agreement and the fight will take place on November 17 in the United States.
The teams have to work out whether the fight will take place in New York or Las Vegas but as of now it is a done deal. The two fighters are expected to receive upwards of $10 million and the fight will be televised by BT Sport in the UK and Showtime in the United States and other parts of the world.
Wilder aka the "Bronze Bomber" has already faced off with Tyson Fury and the two will do a world tour in the coming months to promote the fight. Wilder has an impeccable record with 40 fights, 0 losses and 39 of his victories have come via knockout. Wilder has promised to knockout Fury and then go after Joshua to cement himself as the best heavyweight boxer in the world.
SHOWTIME Sports
Tyson Fury Remarkable Comeback
There was never a lot of attention given to a Wilder vs. Fury bout because Tyson Fury aka the "Gypsy King" went off the rails. Fury took nearly 30 months off from the sport as he battled an addiction to cocaine, fell into depression and started putting on a lot of weight. Many believed his boxing career was over but the British fighter managed to turn things around and get his life back together.
Fury fought over the weekend when he faced Francesco Pianeta at Windsor Park and came out with a decision victory. The 30 year old Brit has a total of 26 fights, 0 losses and 19 of those wins have come via knockout.
In a statement, Fury said
From where I was at rock bottom to where I am now, this is a victory in itself. But I want to prove that I am the best boxer out there, the best in the era, and I genuinely believe I am the best heavyweight boxer that has ever lived. I'm not in this for the money, I don't need the money. I would fight for nothing. That's what it means to me