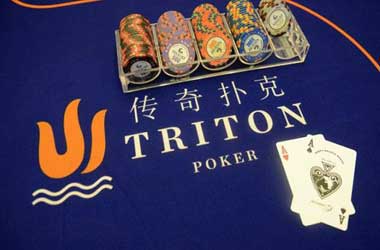 High stakes poker event organizer Triton Poker and sports marketing global distributor Protocol Sports Marketing have signed an exclusive deal, opening up a new chapter for both companies.
Under the deal, Protocol Sports gains exclusive worldwide distribution rights for the newly-produced Triton Super High Roller Series London. The new show is based on the record-breaking tournament of the same name, comprising of 10 one-hour episodes.
The show will also feature expert commentary from Canadian poker superstar Daniel Negreanu who will be recapping the £1,050,000 buy-in Triton Million London, the largest buy-in event in poker history.
Significant hands from the record-breaking tournament will also be shown throughout the 10-hour show, reliving important highlights and action for the viewers.
The Triton Million for Charity took place in August 2019 and saw some of the world's top high rollers in attendance. The event was ultimately taken down by Chinese businessman Aaron Zang for an astonishing £19 million ($23 million), the biggest prize ever awarded in the history of tournament poker. Runner-up Bryn Kenney walked away with £11,670,000, putting him at the top of the All-Time Money List, surpassing Justin Bonomo.
Triton Poker
Perfect Timing
Triton Poker normally livestreams its tournaments and also has a dedicated YouTube channel where it uploads content. The new partnership with Protocol Sports will enable the company to reach a wider audience as the brand will now be visible on mainstream media networks around the world.
Protocol's existing partnership with multiple international TV and online broadcasters such as ESPN and Fox Sports in the US, as well as several major sports brands including Sky Sports and BT Sport in the UK, and other TV stations in Europe, will bolster Triton Poker's expansion efforts. As the world remains in lockdown and people continuously look for TV or online entertainment while quarantined at home, the timing of the partnership couldn't be better.
The new agreement will also see Protocol expand to another niche, representing a new chapter for the company. Triton Poker is an interesting addition to Protocol's growing list of partners, enabling the company to reach new heights. The company's Marketing President Lowell Conn said Protocol and Triton will passionately work together towards a common goal, while upholding the values of charity and sustainability.
The deal will pave the way for poker to be aligned with major sports, providing some sort of clarity on the debate over whether or not poker can be considered a real sport.