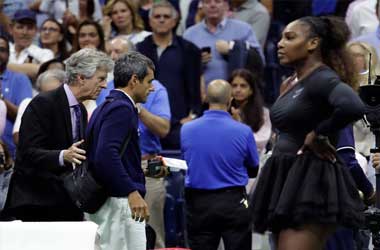 In the wake of the controversy surrounding Saturday's U.S. Open final in which Naomi Osaka defeated Serena Williams, tennis umpires are weighing in boycotting any match that features the U.S superstar. Many umpires have made it clear that they are not happy with Serena's behavior and they feel that umpire Carlos Ramos is not getting the proper support that he deserves from the USTA. Ramos was the target of a tirade from the 23-time Grand Slam winner.
A report in the Times of London said that many umpires believe that they have not been supported by the USTA in the past or present and that they are seriously considering a boycott of matches in which Serena Williams is playing. The Times was told that some of the umpires think that Ramos was "thrown to the wolves" just because he was doing his job and didn't want to face abuse for doing so.
The umpires might refuse to work any matches that Williams is involved in until she gives Ramos an apology for calling him a thief and a liar.
WE963pdx
Accused Umpire of Being Sexist
Williams was handed three code violations during her match against Osaka. She was warned by Ramos in the second set for receiving coaching and his warning was met by protest from Williams. After angrily smashing her racket, Williams accused Ramos of being sexist because she didn't think that Ramos would penalize a male player for the same thing.
She then called him a thief and demanded that Ramos apologize to her. A game penalty was the result of Williams' third violation. After the heated match, Williams explained her frustration by saying that Ramos wouldn't take away a game from a man because he said the word "thief." She said that she was stunned and that she would continue to speak up for women. Williams has been fined $17,000 for her actions.
Umpires Have Their Say
Richard Ings, a retired tennis umpire told ESPN that the WTA does not give their umpires proper support when they are forced to make unpopular decisions. However, the Tennis Federation released a statement on Monday which backed Ramos. They said that Ramos made the right decision according to the rules and they agreed with the three violations that Williams committed.
Serena Williams is easily the biggest star in women's tennis and her actions were condemned by a number of tennis players including Martina Navratilova who felt that umpire Ramos had done the right thing. Ramos has chosen to keep a rather low profile since the incident and has confirmed that he is alright and nobody needs to worry about him.