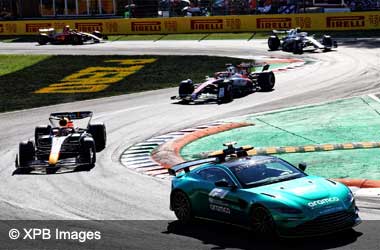 Summary
The Italian Grand Prix was won by Max Verstappen under the Safety Car
Team principals were unhappy with it and the FIA called a meeting to discuss sporting standards
The recent events at Monza have been compared to last year's controversial Abu Dhabi race
Fédération Internationale de l'Automobile (FIA) president Mohammed Ben Sulayem has met with Formula 1 race officials and team managers in light of the events at the recently concluded Italian Grand Prix.
The summit meeting, which took place on September 12, focused on sporting standards, but it's understood the controversial Safety Car end to the race at Monza was also high on the agenda.
On Sep 11, Max Verstappen won the Italian Grand Prix in an unusual finish to the race – behind the Safety Car. Many are not happy with how things turned out, including Red Bull's team principal himself, Christian Horner, who said the Safety Car ending denied a grandstand finale between Verstappen and Charles Leclerc.
How did it Happen?
Verstappen, who was gunning for his fifth win in a row, was leading the race with Leclerc trailing behind him. With just six laps remaining, Daniel Ricciardo lost power and had to stop his McLaren in between the Lesmo corners. The Safety Car was then deployed to allow the marshals to clean the track but they were unable to do it in time for racing to continue. As a result, the race concluded under the Safety Car with the title going to Verstappen and Leclerc finishing as runner-up.
The controversial ending sparked criticism from team managers who said the race should have been allowed to restart and finish under normal circumstances, but FIA was quick to defend its actions, saying the decision was made after the marshals did not manage to put Ricciardo's car into neutral. The governing body also said it was in line with the procedures agreed with all competitors.
FIA Followed the Rules but Things Must be Improved
The events at Monza were reminiscent of last year's Abu Dhabi Grand Prix where a late Safety Car allowed Verstappen to overtake Lewis Hamilton and win the crown, denying the latter what would have been his record eighth World Championship. During that time, FIA's regulations were placed under the spotlight as Michael Masi, who was then the FIA race director, took a hit for improvising on the rules.
While Horner, Ferrari's Mattia Binotto, and other team principals were disappointed with what unfolded at the Italian Grand Prix, Mercedes CEO Toto Wolff said the FIA had followed its own rules this time around, unlike last year, referring to the controversial Abu Dhabi race.
However, Wolff also agreed that there are still areas for improvement and that everyone must work together for the betterment of the sport.
Formula 1 heads to Singapore next on October 2, checkout the latest betting odds, will Verstappen be crowned after the race?