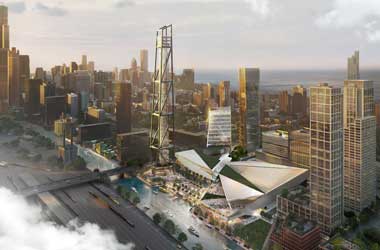 Summary
Rush Street Gaming and Related Midwest plan to create a casino on land known as The 78.
Residents are concerned about crime, increased traffic, and gambling addiction.
The Rivers project would bring the least amount of money to the city when compared to other plans.
Yesterday evening, the final meeting involving the three casino proposals for Chicago took place. First was Hard Rock, then Bally's and finally the Rivers 78 project. Each plan has seen opposition and South Loop residents did not hold back during last night's meeting regarding the Rivers 78 casino.
Rush Street Gaming and Related Midwest plan to create a new epicenter for tourism in Chicago, and this is what has potential neighbors up in arms as previously reported. Residents do not want to create a busy area where they live every day. Residents spoke their mind during the meeting, basically saying they do not want the project to take place.
Details of Rivers 78 Proposal
The new casino would be created in an area known as The 78, as it has potential to become the 78th community in Chicago. The property has 62 acres and has seen many plans proposed on how the land should be used. Each attempt has failed, and it seems the local community wants the casino project to fail too.
Many South Loop residents were on hand during the meeting, taking on the team of the casino and its proposal plans. Residents raised several concerns including increased traffic, gambling addiction and more crime in the area. Even children were in attendance with an 11-year-old asking how to feel safe when a casino is a neighbor.
The 78 Community Advisory Council co-chair, Debbie Liu, stated that she would like to see the city slow down the process when it comes to selecting a casino. All stakeholders should be able to better understand the proposals and the right one be chosen.
The Rivers 78 project would cost $1.6 billion and create a large 300 room hotel along with an observation tower. It is expected that the project will bring the least amount of revenues when compared to Hard Rock and Bally's. The difference is between $11 and $17 million.
Who Will Be Chosen?
The process of selecting a casino for Chicago, Illnois has been ongoing for quite some time with several delays. Mayor Lori Lightfoot seems to be determined to make a selection by summer. But will the negative comments at the public hearings play a role?
Will the pros and cons be weighed more heavily as Lightfoot and other officials make their selection? Once a decision is made, we could see even more pushback from the locals depending on which project is selected. It will be interesting to see if the community plays a role in which project is chosen and if any protests will emerge based on the winning proposal.