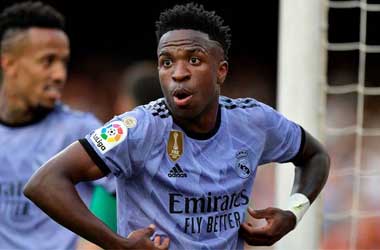 Summary
Spanish football fans hung an effigy of Brazilian star Vinícius Júnior
Vinícius Júnior was also racially abused by fans and called a monkey
Brazil and multiple stars including Lewis Hamilton and Kylian Mbappé have supported Vinícius
Spanish football is in the news this week but for all the wrong reasons!
The Royal Spanish Football Federation (RFEF) has received strong criticism from all over the world for failing to take action against individuals who racially abused Real Madrid player Vinícius Júnior.
Vinícius Júnior Protests Against Ugly Racism Incidents
Brazilian Vinícius Júnior is one of the most talented young players in the world and plays in the La Liga for Real Madrid. Over the weekend he was subject to racist chants during a game between Valencia and Real Madrid. Valencia fans started a chanting 'Vinicius is a monkey' as the Real Madrid bus showed up to the stadium in Valencia.
Vinícius Júnior has suffered a number of other racist incidents during his time in the La Liga and not much has been done in the past to put an end to it. With one incident in January where, an effigy of Vinícius Júnior displaying the number 20 (which is his jersey number) was hung with a message "Madrid hates Real Madrid" on a bridge in the city of Madrid ahead of a Copa del Rey fixture between Real and city rivals Atletico Madrid. The Brazilian star could not take any more abuse and decided to take to social media to ask for help.
A cada rodada fora de casa uma surpresa desagradável. E foram muitas nessa temporada. Desejos de morte, boneco enforcado, muitos gritos criminosos… Tudo registrado.

Mas o discurso sempre cai em "casos isolados", "um torcedor". Não, não são casos isolados. São episódios… pic.twitter.com/aSCMrt0CR8

— Vini Jr. (@vinijr) May 22, 2023
His social media post caused a chain reaction as his country Brazil immediately threw their support behind him and decided to off the lights at the famous Christ the Redeemer statue to send a strong message.
Preto e imponente. O Cristo Redentor ficou assim há pouco. Uma ação de solidariedade que me emociona. Mas quero, sobretudo, inspirar e trazer mais luz à nossa luta.

Agradeço demais toda a corrente de carinho e apoio que recebi nos últimos meses. Tanto no Brasil quanto mundo… pic.twitter.com/zVBcD4eF8k

— Vini Jr. (@vinijr) May 22, 2023
Multiple stars including France's Kylian Mbappé and F1 ace Lewis Hamilton (who also spoken out about racism in the past) also threw their support behind Vinícius and lashed out at the La Liga for not doing more to stop it.
Multiple Arrests Made but More Action Needed
The protests by Brazil's President and other football stars caused Spanish police to act quickly as they opened a hate crime investigation and quickly arrested 7 individuals who were involved in the racist changes and hanging the Vinícius Júnior effigy.
Vinícius Júnior said it was inhumane for him to play in such conditions and said he was disappointed with La Liga for not doing more to support him and take action against racist individuals. Vinícius said La Liga could put pressure on the Spanish Football Federation to do more as the had the power to cancel a game due to racist incidents but so far has never exercised that power.