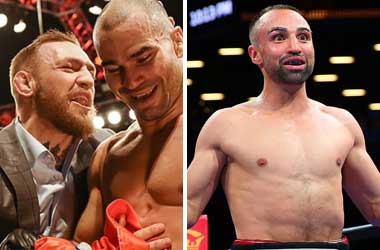 The Bare Knuckle Fighting Championship (BKFC) hasn't been around for very long but they are making big news in the combat sports market with BKFC 6 pay-per-view which is scheduled to take place on June 22 at the Florida State Fairgrounds.
David Feldman, president of BKFC has said that this card is arguably the most discussed combat sports event of the summer and that is due to the crazy antics and heated press conferences between Paulie Malignaggi and Artem Lobov who headline the card.
If you are a boxing fan, you know Paulie Malignaggi for he competed in professional boxing from 2001 to 2017 and held the WBA welterweight title from 2012 to 2013. He now works as a boxing analyst and commentator but has decided to for some reason to kick-start his career in BKFC. He will make his first appearance at the BKFC promotion when he fights Lobov.
Malignaggi made headlines in 2017 when he was invited to be a part of Conor McGregor's camp when he was preparing to fight Floyd Mayweather. McGregor published video footage of knocking down Malignaggi during sparring which infuriated Malignaggi and created bad blood between the two.
FightHype.com
Who is Artem Lobov?
Artem Lobov is a mixed-martial-arts fighter who was contracted with the Ultimate Fighting Championship (UFC) before being released in Jan 2019. Artem's MMA record does not look all that impressive with 13 wins and 13 losses.
However all of his opponents will tell you that Artem Lobov is a really tough opponent who does not back down. Lobov's first fight at BKFC was a great match when he fought former UFC fighter Jason Knight. The bloody battle went to a judge's decision and Artem came out with the win.
Artem Lobov is a long time sparring partner of Irish superstar Conor McGregor and a close friend of the family. The feud between McGregor and UFC lightweight champion Khabib Nurmagomedov started because Khabib's team cornered Artem Lobov in Russia and slapped him.
McGregor was upset with what went down, chartered a flight to New York and got his revenge on Khabib with the infamous bus incident at the Barclays Center.
Paulie Malignaggi has created a lot of animosity in the lead-up to this fight by spitting in Artem Lobov's face during a press conference face-off and also publishing video of him spitting on Conor McGregor's image which was on one of his Proper 12 Whisky trucks.
MMA fans will tune in on June 22 to see who wins. Rumours are that Conor McGregor has been invited as a special guest!