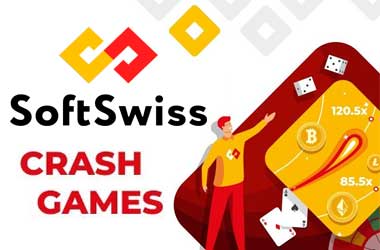 SOFTSWISS has revamped its gaming portfolio by introducing a new category to its game aggregator. The new game category dubbed crash gambling seeks to provide gaming enthusiasts with an array of options from select vendors.
The unique feature about crash gaming is that it does not adopt the traditional model of probability. Instead, crash gambling games employs time based mechanics to secure wins.
In crash gaming, players simply stake their bet and wait for the in-game multiplier. The multiplier is presented as a rising line graph whereby the higher it rises, the higher the chances of winning big.
However, gamers ought to stay alert to anticipate crashing. Nonetheless, players can cash out their stake before the line crashes to avert losses.
With crash gaming, the impressive aggregator portfolio that boasts over 11,000 games has received a major boost. The game aggregator comprises games like lotteries, table games, online slots, virtual sports, live dealer games, social casino and dice games. All of the available games come from some reputed providers in the industry.
Crash Games and Cryptocurrencies
The popularity of cryptocurrencies in the iGaming market will have a positive impact on crash gambling. SOFTSWISS is confident that crypto currencies will help propel crash gaming to the top three most popular games in the online casino industry. Game aggregator's current portfolio consists of over 3,000 casino games that accept cryptocurrencies.
While you can play crash games with cryptocurrencies, game aggregator allows players to stake using conventional currencies. These features are easily accessible to gaming operators via API integration. Game aggregator's head Tatyana Kaminskaya is upbeat about the company's introduction of crash gambling games as they hope to ride on the popularity wave triggered by these games.
SOFTSWISS believes that the variety in their portfolio will appeal to their players across the world. The company is also banking on their excellent customer service to enhance the popularity of crash gaming and other games in their portfolio. SOFTSWISS has had a lot of success recently which is evident in the huge milestone they recently achieved.
In July 2021, Game aggregator generated over $232 million in gross revenue. The figure represents incredible growth compared to November 2020 which stood at $100 million. SOFTSWISS indicated that the immense growth was a result of acquiring new clients in Latin America, Europe and the CIS region. With the inclusion of crash gaming, the company is expected to further expand its market base which will translate into increased revenues.