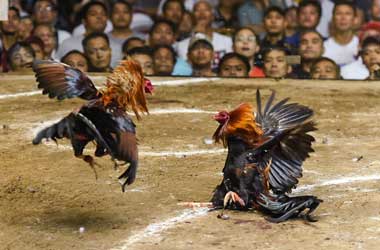 Summary
Online cockfighting is currently banned in the Philippines and also illegal in Singapore
An iGaming platform with a .six domain is livestreaming these cockfights to Singapore
Singapore issues warning to citizens taking part in illegal gambling activities
An investigation by The Sunday Times (Straits Times) has found that online betting on cockfighting matches taking place in the Philippines has now made its way to Singapore, courtesy of an illegal online gambling operator.
Online cockfighting, known as "e-sabong" in the Philippines, had been an important revenue driver for the country during the pandemic era but then-President Rodrigo Duterte decided to put an end to the online betting craze in May 2022 after saying PAGCOR would continue to regulate it a few prior due to its social impact on Filipinos. Despite the ban, operations have continued underground with the cockfighting matches now live-streamed to a wider audience, including those in Singapore.
Illegal Gambling Site Luring Customers In with False Claims
The online gambling operator in question uses an "SG" suffix in its website name and claims to be a gambling platform for Singaporeans. Its social media page previously displayed a Malaysian address but it has since been deleted. Apart from online cockfighting, the platform also allows its customers to place bets on 4D results.
In Singapore, online betting is only allowed via Singapore Pools. It is the only licensed lottery and sports betting platform in the country. This means all other online gambling sites accepting Singaporean customers are violating the country's gambling laws.
The Sunday Times tried to create an account on the illegal gambling site to have an idea about how it operates. Setting up an account requires the customer's full name, mobile number, and email. The Sunday Times was able to register in just a few minutes. New players are then given a step-by-step guide on how to place online bets on cockfighting matches.
To access the betting platform, customers need to download an app via the Google Play Store. The Sunday Times found that the said app is being promoted on the Play Store as a note-taking app. Users are also required to use a virtual private network (VPN) to access the cockfights. This procedure prevents the site from being blocked in Singapore.
Singaporeans Warned Against Betting on Unlicensed Platforms
Representatives of the illegal gambling operator claimed that there are usually huge bets involved in online cockfighting. In a cockfight, the platform displayed tens of thousands of bets being placed, with the amounts ranging from RM5 (S$1.50) to RM5,000. The site also claims to have made donations to various charities in Malaysia and Singapore.
Singapore's Ministry of Home Affairs said such operations are prohibited in the country, and anyone found to be participating in illegal betting could face a six-month jail sentence or a $10,000 fine, or both.