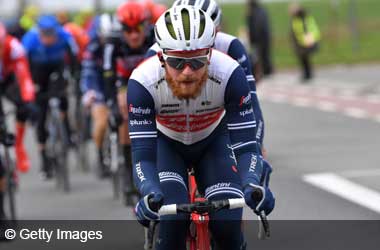 America is arguably the most divisive it has ever been as the nation prepares to vote the next President in. The first Presidential debate between President Donald Trump and Democrat nominee Joe Biden turned into a verbal slugfest and got personal very quickly. The hatred towards President Trump is very evident as well as anyone supporting him.
American cyclist Quinn Simmons was suspended by Team Trek-Segafredo for supporting President Trump in a tweet. The tweet came about after Jose Been, a cycling-journalist from the Netherlands posted a tweet denouncing President Trump and informing Americans that there was no need for them to vote for a horrible man. Been told followers that if they did not support this view, they could unfollow her.
Simmons replied to this tweet by using a black skinned hand emoji to wave Been goodbye. On the same Tweet he would later respond to a comment which said 'apparently a Trumper' by saying 'that's right' and using an emoji of an American flag.
Trek-Segafredo took offense to the tweets by the 19 year old Simmons and suspended him. They released a statement which said they supported free speech but did not support Simmons statements as they found it divisive and did not represent the views of the team, professional cycling and fans. The statement confirmed Simmons was suspended until further notice.
Fans Take Offense To Trek-Segafredo Suspension
The suspension from Trek-Segafredo did not go down well with most cycling fans and Americans who supported Trump. They felt that Simmons should not have been suspended as there was nothing wrong with his tweet. Emotions ran high and many Americans took to Twitter and called for Trek-Segafredo products to be boycotted.
Trek-Segafredo initially did not clarify what exactly they found divisive about Simmon's tweets. It appears that the black hand emoji might be the reason as to why the company decided to come down hard on Simmons. However after the social media backlash, the company said that Simmons was not suspended due to his political inclinations but because his comments did not reflect the conduct of a Trek representative.
Simmons went on to release a statement where he issued an apology to anyone who found his black emoji racist or offensive. He would go on to say that he was happy to be a part of this American team which he chose for the American values it stands for.
Don't forget to check our latest odds for the Giro d' Italia which Simmons team mates will be looking to win without him.