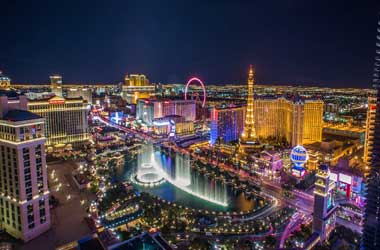 The Las Vegas Strip was once a vibrant poker hub, with almost all casinos hosting a poker room. The poker market in Vegas has changed significantly since Black Friday in 2011 which is dubbed as poker's darkest day.
While Black Friday focused on the online poker market in the country and caused top poker operators like PokerStars, Absolute Poker, and Full Tilt Poker to immediately exit the US, it also impacted the live poker market which led to dozens of poker rooms shutting its doors in Vegas.
We take a look at some of the major poker rooms that have closed on the Strip in the last few years.
Black Friday Hurts Online And Live Poker
Among the first to close in light of 2011's Black Friday was the popular Sahara poker room at the Stratosphere which offered daily tournaments and cash games to players. poker room stopped serving its customers in April 2011. The following month, the Stratosphere ceased operations, marking the end of an era for the property which operated for almost six decades.
A number of poker rooms closed in 2012 including Silverton, Fitzgeralds, O'Sheas, Tropicana, Ellis Island and Jokers Wild. Casino operators were forced to close them as they were no longer profitable. Some of these poker rooms are now being used to host slot tournaments.
During the last five years, online poker has slowly made a comeback as Nevada was the first to lift the ban, followed by New Jersey and Delaware. The online poker market also turned out to be sluggish in Nevada which forced the state gaming regulator to push for online poker shared liquidity with Delaware and later New Jersey to make the online poker market in Nevada more attractive for players.
Poker Room Closures From 2011-2019
Poker rooms struggled to get players to occupy their tables on a consistent basis and even when they did, they were not spending a lot of money. The lack of customers and the lack of spending forced multiple poker rooms to close in Las Vegas over the last few years. Some of the top Vegas casinos that have closed their poker rooms in over the years include Aliante Casino, Plaza, The Linq, Monte Carlo and Luxor.
More recently, Suncoast, which started the Seven Card Stud Hi/Lo games in Vegas, closed its doors in April 2018, followed by the closure of the seven-table poker room Treasure Island and the Golden Entertainment-owned Arizona Charlie's Decatur in August 2018.
The latest poker room to shut its doors was The Strat. As part of a $140 million renovation, the poker room was transferred to the second level of the resort casino. However, the poker games eventually faded away and the room was forced to close in October 2019.