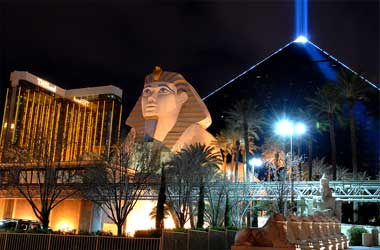 The Luxor casino has become the latest casino on the Las Vegas Strip to close its poker room. The closure will bring down the total number of poker rooms left on the Strip to 18 and 35 across Las Vegas. The total number of poker tables now left on the Strip is around 260.
According to local news report, MGM Resorts International which owns the casino informed employees earlier this week of the upcoming closure. Luxor's poker room will cease functioning from June 18. So far 22 poker rooms have been shut down in the past six years in Las Vegas. Just last month, Monte Carlo closed down its poker room. Monte Carlo is also owned by the MGM group. Earlier in March, a poker room with three tables was closed at Hard Rock.
The closures aren't surprising as revenue from poker rooms is stagnating in the region. In the past year, poker rooms in the Strip have netted a total of $77.6 million from cash games, almost the same as last year. Revenues are nowhere close to what was recorded in the game's heyday in 2007 when there were 26 poker rooms on the Strip with a combined 396 tables. In 2007, poker revenue was at $97 million with 405 active poker tables.
KTNV Channel 13 Las Vegas
The game's popularity took off in 2003 when Chris Moneymaker won the World Series of Poker's main event. Statewide revenue from poker in 2005 was $140.2 million.
In a statement Michael Lawton, Senior Research Analyst for the Nevada Gaming Control Board said,
The proliferation of casinos across the United States has decreased the need for players to travel to Nevada to play poker. At this point the consensus is that traditional poker will not experience any significant growth without a national interactive component to support growth in traditional poker by introducing new players to the game
One of the ways to introduce the game to new players is through online poker but lack of legislative support is hindering its growth. Nevada legalized online poker in 2013, but so far it has failed to gain anticipated traction as a result of poor liquidity. According to latest data, Nevada's online poker market is valued at around $7 million a year.
Despite this latest closure, MGM will continue to have a strong poker presence in Las Vegas. The casino operator still has poker rooms in major casinos like Aria which has 24 tables and Bellagio which has 37 tables.