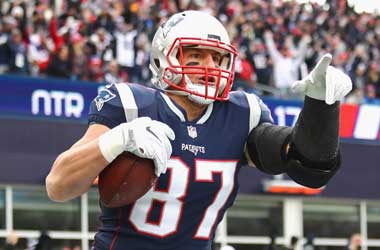 There's a lot of energy and nervous tension floating around in Atlanta, Georgia and throughout the United States to be fair as the biggest sporting event in the nation is set to take place on Feb 3.
Super Bowl 53 will take place at the Mercedes-Benz Stadium when the New England Patriots battle it out with the Los Angeles Rams for the Lombardi Trophy. The Patriots go in as the favourites and Rob Gronkowski will have a major role to play if they are to become Super Bowl Champions.
Tom Brady is the biggest star in the NFL and the most visible player in the Patriots team. However, Rob Gronkowski is not far behind as he has spent 9 seasons with the Patriots and has been a key cog in the Patriots line-up.
The Patriots go in as the favourites and Gronkowski knows the weight of carrying the expectations of millions of fans and the pressure that it brings. Gronk as he is affectionately called is only 29 years old but it looks like the grind of playing in the NFL has worn him down.
ESPN
Gronkowski opened up about the pressure NFL players face as fans and supporters expect all players to come out on the field and give 100 percent each day without understanding the physical and emotional drain that a player may face. He pointed out that most NFL players have to battle pain and play through it.
In an interview, Rob Gronkowski said
No one realizes that, and everyone expects us players to be wide awake every single day, and it's like, 'Yo, I just took 50 hits to my head,' or not to my head, but I'm saying I just took 50 collisions, and then like the next day everyone wants you to be up
Gronkowski Could Retire Soon
Most of the attention in recent times has been on Tom Brady and whether he will retire, given the fact that he is 41 years old. However, don't be caught off guard if you learn that the Gronk has decided to call it a day.
There have been a few retirement rumours floating around and Gronk hasn't cleared the air and confirmed that he will return to the Patriots for his 10th season. He is concerned about the amount of head trauma and serious hits and might want to call it a day after Super Bowl Sunday. Whatever be his decision, Gronk will go down in history as one of the best tight ends to have ever played the game.