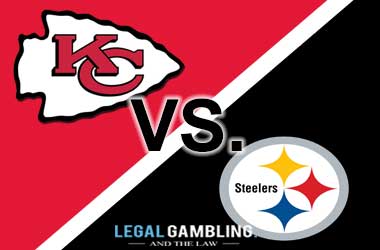 Two high-powered offenses go head to head on Sunday, led by two quarterbacks at different points in their career trajectories.
In the driver's seat for the Kansas City Chiefs is a young gunslinger in Patrick Mahomes, who took over after veteran Alex Smith was traded to the Washington Redskins this offseason. Mahomes was the number 10 pick in the 2017 draft and appeared to be a perfect fit in Andy Reid's west coast scheme in week 1.
The veteran Ben Roethlisberger is in his 14th season with the Pittsburgh Steelers and is looking to lead his squad back to the Super Bowl. Against the Browns last weekend, Ben looked like his usual self, slinging it around the yard and shaking off would-be sacks.
This matchup has the potential to be an absolute shootout and should be a game you have your eyes on whether you have money on either side or not. Oddsmakers have the Steelers as 5-point favorites at home, with an Over/Under set at 52.5
Kansas City Chiefs Riding High Following Week 1 Win
The Chiefs offense was explosive in week 1, averaging 9.5 yards per attempt through the air. Running back Kareem Hunt and tight end Travis Kelce were mostly nonfactors, however, as Tyreek Hill stole the show.
Early in the 1st quarter, the man they call "Cheetah" validated the fact that he is the fastest man in football by taking a punt 91 yards to the house. Hill then took a slant route from Pat Mahomes, shed a tackler, and burst up the sideline for a 56-yard touchdown, and later scored on a shovel pass jet sweep on the goal line, capping off an incredible game in which he finished with 7 catches for 169 yards and 2 touchdowns.
Mahomes was just as impressive, slinging the ball sidearm in a tight window on the slant route Hill scored on, and later found Anthony Sherman on a wheel route up the sideline, placing the ball perfectly over a defender, catching Sherman in stride, who raced in for another of Mahomes 4 touchdowns on the day.
The defense, on the other hand, struggled, giving up 541 yards of total offense to the Chargers. The secondary in particular was consistently caught out of position, allowing 8 yards per attempt, 3 touchdowns, and 418 yards through the air. The defense was constantly on their heels, giving up 33 first downs throughout the game, and catching a few lucky breaks on dropped passes by Chargers receivers.
Injuries and Inactive Watch
The Chiefs went relatively injury free week 1
Pittsburgh Steelers
The Steelers had a different story in week 1, albeit still putting up huge numbers on offense. In a game that ended in a tie against the Browns, Big Ben threw for 335 yards and a touchdown and was supplemented on the ground by running back James Conner's 135 yards rushing and 2 touchdowns.
The Steelers issue offensively was the turnovers. Roethlisberger was picked off 3 times, and also put the ball on the ground twice. James Conner also had a ball stripped, bringing the Steelers turnover total to 6 in the game.
Antonio Brown was his usual self, catching 9 balls for 93 yards and a touchdown, and JuJu Smith-Schuster had himself a day with 5 catches for 119 yards. Conner's day almost made the Steelers forget about Le'Veon Bell, adding 5 catches for 57 yards, and looked decisive and explosive in the Steelers hybrid run scheme, converting speed to power and consistently getting yards after contact.
The Steelers defensive front wreaked havoc against the Browns, racking up 7 sacks and applying constant pressure on Tyrod Taylor. Against the Chiefs, the Steelers will face a stiffer challenge up front, but edge rusher TJ Watt and defensive end Cam Heyward will have to have big days if they want to knock Mahomes off his spots.
Injuries and Inactive Watch
QB Ben Roethlisberger (elbow)- questionable, Expect him to play
CB Joe Haden (hamstring)- questionable, keep an eye out later in the week
OG David DeCastro (hand)- questionable, expected to play
Matchups to Watch
Chiefs WRs vs. Steelers secondary
Chiefs OTs vs. Steelers EDGE/Des
Steelers RBs vs. Chiefs LBs
Steelers interior OL vs. Chiefs Chris Jones
Predictions
This game has the potential to be an offensive explosion from both sides. Pat Mahomes may face some growing pains in just his first season as a starter, but it shouldn't come against the Steelers questionable secondary, especially if cornerback Joe Haden isn't good to go.
The Steelers will have to have a huge game from the pass rushers if they have any hopes of slowing down this versatile Chiefs attack. The Chiefs offensive line is not great by any means, but Andy Reid will scheme around the Steelers pass rush and negate their pressure with short crossers and screens to Kareem Hunt and Tyreek Hill.
Big Ben and the Steelers offense are primed for a big day as well, as long as they can keep the turnovers to a minimum. The Chiefs secondary isn't scaring anyone, and as long as they can keep defensive tackle Chris Jones and edge rusher Dee Ford in check, they should have no issues moving the ball through the air.
Expect another big day from James Conner as well, as the Steeler offensive line should be able to open up holes consistently, and Conner should find favorable matchups in the passing game against the Chiefs linebackers.
Both teams get close to the 30s in this game and give a slight edge to the Steelers against the spread. But hammer the over, looking for both quarterbacks to take advantage of the oppositions spotty defenses.
Final Pick: Chiefs @ Steelers Over 52.5