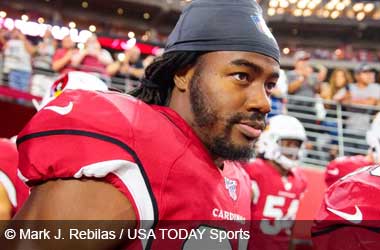 The NFL has hit Josh Shaw from the Arizona Cardinals with a suspension that will last till the end of the 2020 season which ends in 2021. The suspension was handed out after information surfaced that Shaw had placed multiple bets on NFL games this season.
Shaw, who has not played this season after sustaining a shoulder injury during the preseason. He has been on the Cardinals' injured reserve list as he wasn't fit to play.
However, it appears that Shaw has taken to playing another kind of game – sports betting!
Shaw's suspension marked the first time in 35 years a player was sanctioned by the NFL for gambling. The earliest Shaw can petition for reinstatement is on Feb. 15, 2021.
Sports betting among NFL players have historically avoided scrutiny. However, in recent years, the major sports leagues across the United States such as the MLB, NBA and NFL have all faced major scrutiny as legal sports betting has stepped out of the shadows and has gained momentum in the last 18 months after being legalised back in May 2018. Legal sports betting is a multi-billion dollar industry now and the last thing it needs is a player scandal that undermines the legitimacy of sports.
CNN
Anyone who is part of a sports league is privy to insider knowledge that can give them an unfair advantage when betting. Players, especially those who bet on games they end up playing have the ability to manipulate results, which could damage the credibility of legal sports betting.
NFL commissioner Roger Goodell released a statement that justified the harsh sanctions levied on Shaw. The statement noted that any person who works for the NFL, in any capacity, cannot place bets on NFL games, as this would seriously undercut the legitimacy of the league in the eyes of the public, jeopardising both the league's success, as well as the legalised sports betting industry.
NFL's Internal Investigation Revealed Shaw's Betting
The NFL's internal investigation revealed that Shaw bet on NFL games multiple times throughout the season but did so without the knowledge of anyone else in his team or the NFL. The NFL also stated that Shaw's bets utilised no inside information, and did not occur alongside efforts to influence the outcomes of the games.
The NFL released no information about where Shaw placed his bets and the Cardinals did not release any statement regarding the suspension. Josh Shaw has 3 days to appeal his suspension, if he wishes to do so.