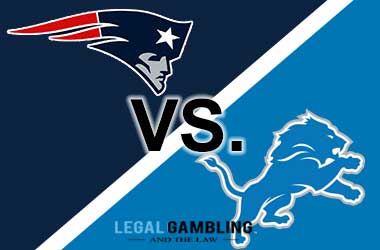 The classic student versus teacher, mentor vs mentee, whatever you want to call it, matchup goes down in primetime Sunday night. New Detroit Head Coach Matt Patricia attempts to rally his team at home against his former Head Coach, Bill Belichick, and the New England Patriots.
The Patriots are coming off a loss to the Jaguars by a score of 31-20, falling to 1-1 on the season. This loss is less of an indictment against New England, as Jacksonville appears to be one of the most talented teams in the league.
The Lions have dropped their first 2 games, including a disappointing blowout in their opening game against the Jets. Last week, they were competitive with the 49ers, and Stafford led a late-game comeback attempt, but ultimately fell short 27-30.
Oddsmakers have the Patriots as 7 point favourites on the road, with an Over/Under total of 54.
New England Patriots
The Patriots have not been their usual dominant force yet this season but has nothing to do with the play of Tom Brady. Their weapons on offense have been severely lacking in support of Brady.
Their skill positions have been decimated between Julian Edelman's suspension, and rookie Sony Michel missing the first game of the season. They lost Brady's safety blanket Danny Amendola and dynamic running back Dion Lewis in the offseason, and their receiving corp has been especially thin, running with a combination of former 1st round castoffs.
Tight End Rob Gronkowski could not be covered week 1, going for 7/137/1, but was shut down by Jacksonville's versatile defense. The Jaguars consistently jammed him at the line and doubled him off the snap.
The defense has been average at best. Their front's play was inflated week 1 due to an awful Texans offensive line, and Blake Bortles found running lanes and open throwing lanes the entire game last Sunday. Belichick is one of the greatest defensive minds in football, and I expect them to turn it around.
Injuries and Inactive Watch
WR Josh Gordon (hamstring)- questionable, EDGE Trey Flowers (concussion)- questionable, TE Rob Gronkowski (ankle)- questionable
Detroit Lions
After being run off the field week 1, the Lions bounced back nicely on offense against San Francisco. Now the 9ers defense is no '85 Bears, but Matt Stafford looked like a new man compared to his week 1 debacle.
Stafford threw 53 times in a backdoor cover, turning the ball over on downs on their final drive. Stafford ended the game with 347 yards and 3 touchdowns, mostly coming in the second half.
Wide receiver Kenny Golladay has been a nice surprise thus far in his second season. Golladay leads the Lions receiving corp with 203 yards, 15.6 yards per reception, and 11 first downs.
Despite the Lions best efforts, their run game has been nonexistent, mostly due to early deficits. Rookie Kerryon Johnson has looked solid in limited opportunities, but the Lions have been a bit predictable on offense depending on who's in the backfield.
Detroit's pass rush is almost as invisible as the run game. They sacked Jimmy Garoppolo 6 times last game, but all 6 came on blitzes by linebackers. If they can't get pressure from their front 4, teams like New England and Green Bay will dice them up.
Injuries and Inactive Watch
EDGE Ziggy Ansah (shoulder)- questionable, CB Darius Slay (concussion)- questionable, G T.J. Lang (back)- questionable
Matchups to Watch
Patriots TE Rob Gronkowski vs Lions S Quandre Diggs & Glover Quin
Patriots OTs vs Lions EDGE Ziggy Ansah
Lions WRs vs Patriots Secondary
Lions OTs vs Patriots EDGE
Predictions
With reports coming out that the Lions players did not enjoy playing for Matt Patricia, I thought Detroit bounced back well last week. Stafford looked like himself again, shaking off his struggles week 1, and looking comfortable leading a comeback like he has so many times before.
Let's not beat around the bush here though, the Patriots are the far superior team as far as coaching, quarterback, and all around roster construction, and will/should win this game. But Stafford has proven throughout his career that he is just as comfortable playing with a deficit than he is with a lead. The Lions are going to be airing it out to keep up with New England, and that's exactly where they want to be.
New England's offense may be bolstered by the addition of wide receiver Josh Gordon this week. We wouldn't expect him to play a large amount of snaps, but Belichick and offensive coordinator Josh McDaniels will definitely have a few packages to get him involved if he is good to go. Gordon will add a vertical element to this offense that they have severely been missing.
In the end, 7 points may be a bit much for the Patriots to cover on the road here, especially with Backdoor Matt always keeping gamblers and opposing teams on their toes down the stretch. However, I think Belichick will have his defense ready to roll against his former defensive coordinator, and Josh McDaniel's will be ready to bust up Matt Patricia's D, as I'm sure he did every day in practice when they were in New England. We will take the better quarterback and the better coach in primetime.
Final Pick: New England (-7)