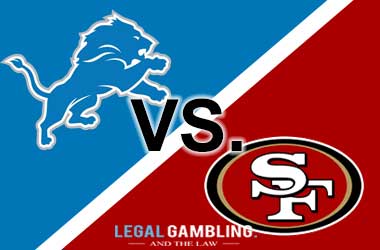 Two teams with playoff aspirations look to bounce back after losses last week Sunday afternoon as the Lions travel to San Francisco to take on the 49ers. Lions quarterback Matt Stafford had some early season turnover trouble against the Jets Monday night, throwing 4 interceptions against the Jets, while Jimmy Garoppolo faced a similar issue, throwing 3 of his own against the Vikings tough D.
Stafford's 4 pick game is uncharacteristic, as he has thrown only 10 interceptions in each of the last two seasons. Garoppolo lost his first game as an NFL starter, and was constantly under pressure against the defensive front of the Vikings, misfiring on 3 interceptions.
The 49ers are 5.5 point favorites at home, with an Over/Under total at 48.
Detroit Lions
The Lions played dreadfully in all facets Monday night, and are hoping it is more of an anomaly than the norm moving forward. Facing a rookie quarterback, the Lions defense gave up 2 touchdowns to Sam Darnold through the air and allowed running back Isaiah Crowell to find the end zone twice on the ground.
After taking Darnold's first pass to the house for a pick 6, the defense was on its heels all night, getting almost zero pressure up front, and getting picked apart in the secondary.
Safety Quandre Diggs was the lone standout, only allowing two catches on the night for 9 yards, and taking an interception back for a touchdown. Edge rusher Ziggy Ansah had a sack on Sam Darnold but was mostly a non-factor besides that.
As mentioned earlier, Stafford was picked off 4 times and looked confused by the Jets coverage schemes right from the start. On the ground, the Lions run game was non-existent, continuing a trend that has persisted for multiple years.
Injuries and Inactive Watch
EDGE Ziggy Ansah (shoulder)- dealt with shoulder injuries in the past, no updates yet, something to keep an eye on, OG TJ Lang (back)- a bit of a concern, missed a game last season with a back injury, RB LeGarrette Blount (knee)- walked off the field on his own, keep an eye out for updates
San Francisco 49ers
Against the gritty Vikings defense, the 9ers found little success on the scoreboard but moved the ball surprisingly well. Like the Lions, the 49ers offense was hamstrung by pressure and turnovers.
The offensive line may appear to be an issue on paper, but the Vikings defensive front is among the best in the league. They only allowed one sack, but Vikings defenders were constantly on top of Jimmy G, forcing a few misreads, and picking Garoppolo off 3 times, taking one back for a touchdown.
After losing running back Jerrick McKinnon to an ACL injury in the final week of the preseason, the 9ers scrambled to patch together a running back group that they felt confident about. Veteran Alfred Morris and 2nd year back Matt Breida were more than serviceable against the tough Vikings D, combining for 90 yards on the ground, taking on tacklers at the line of scrimmage consistently and doing everything they could to get yards after contact.
San Francisco's defensive front got good pressure on Kirk Cousins Sunday, with defensive tackle DeForest Buckner leading the way with 3 sacks. The pass defense did struggle a bit, giving up 244 yards and 2 touchdowns. With Reuben Foster out of the lineup due to suspension, the Vikings took advantage, and Dalvin Cook racked up 6 catches for 55 yards to go with his 40 yards on the ground.
Injuries and Inactive Watch
WR Marquise Goodwin (quad)- day to day, expected to play, OGs Mike Person, Josh Garnett (foot)- Garnett was carted off, I'm skeptical that both will play, LB Brock Coyle (concussion)- not expected to play, LB Reuben Foster (suspension)- suspended for two games, will return week 3
Matchups to Watch
Lions RBs vs. 49ers LBs
Lions IOL vs. 49ers DeForest Buckner
49ers WRs vs. Lions Secondary
49ers OL vs. Lions Pass Rush
NFL Free Pick & Prediction
Look for the Lions to bounce back on the road here. I think they went into the Monday night game vastly underrating the New York Jets. They may not win the game outright, but they have enough firepower to keep pace with the 49ers on the scoreboard. Get our free betting pick and prediction for this game here.
Both defenses are still a bit of a question mark, and you have two offensive play-callers in this game primed to take advantage in Jim Bob Cooter for the Lions and Kyle Shanahan with the 49ers. Shanahan will have his boys ready to bounce back from an L, and we will find out Sunday whether Matt Patricia can re-motivate this Lions team that was vastly underwhelming in week 1.
We are banking on the Lions quite a bit here, but this is a talented football team offensively and Matt Stafford should bounce back in a big way against a San Francisco D that's average at best. The Detroit secondary has some playmakers and as long as the Lions can get any push-up front against the 9ers offensive line, Detroit should keep it competitive and cover, but buy the half point just in case.
Final Pick: Lions +6 (Buy Half Point)