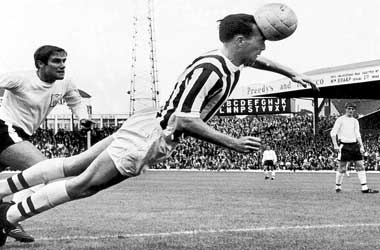 In the last few years, studies have shown that NFL players in America had a high risk of CTE.
Now a new study carried out by the Glasgow Brain Injury Research Group and funded by the Professional Footballers' Association and Football Association in the UK has shown strong links between footballers and dementia due to head trauma.
This recent ground-breaking study "Neurodegenerative Disease Mortality among Former Professional Soccer Players" alleges that professional footballers are 3.5 times more likely to develop dementia and other neurological diseases such as Alzheimer's. The study started was commissioned after accusations surfaced claiming that Jeff Astle, a former striker for the West Bromwich Albion F.C., had passed away because of trauma to his brain.
The research was conducted by the Glasgow Brain Injury Research Group for 22 months and was led by Dr. Willie Stewart, a renowned neuropathologist. The research compared 23,000 deaths from the general population to 7,676 deaths from ex-footballers.
ITV News
Jeff Astle died back in 2002 to an 'industrial disease' as claimed by the coroner but the new research poses a lot of questions over his death. The family of Astle currently wants urgent action taken in light of this landmark revelation.
There's a silver lining in this dark cloud though. According to the same study, playing football and getting all that exercise reduced risks for other conditions, such as certain cancer types and heart disease. Regardless, the families of ex-footballers have had suspicions that there is a causal correlation between football and brain injury, particularly caused when players collide with one another or head fast-moving footballs.
Devastated Families of Ex-Footballers Call for Action
Rachel Taylor, the daughter of Rod Taylor who was the second British football player after Astle to be diagnosed publicly for chronic traumatic encephalopathy, which is a type of dementia wants the UK government and football organisations to address this worrying trend.
Dawn Astle has also called on football organisations to give back to players and their families who are suffering from dementia, Alzheimer's and other mental related illnesses. She said that the players gave so much to the game and it is not time for football to stand with them and their families in this time of need.
Dawn also believes that the government should step in to make the necessary legislative safeguards to protect footballers. Currently, practical help and care funds are being made available by football organisations for the families of hundreds of dementia-suffering ex-players. Concussion protocols are also being considered by these same orgs for implementation in line with other sports. They're also looking into a "temporary substitute" rule to reduce any one player having to deal with repeated head trauma in long, protracted games.