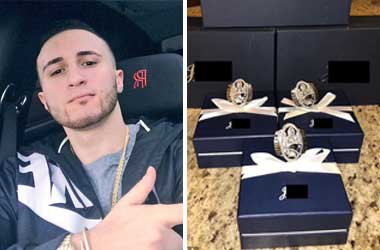 Summary
Scott V. Spina Jr. conned people into buying fake Tom Brady Super Bowl rings
The rings were resold by an auction house for $100,000
Scott V. Spina Jr. pleads guilty to multiple charges
A man from New Jersey (NJ) was sentenced to prison for selling fraudulent Tom Brady Super Bowl LI Championship rings in 2017.
Scott V. Spina Jr., a native of Roseland, NJ, aged 25, pleaded guilty to aggravated identity theft, wire fraud, and mail fraud in February 2022.
Spina Masqueraded as ex-Patriots Player to Order Replicas
Spina bought a ring and other memorabilia from a former New England Patriots player in 2017. The 25-year-old swindled the ex-player out of the original with at least one bad check.
According to the news release by the US Attorney's Office in the Central District of California, Spina sold the ring for $63,000 to a sports ring broker from Orange County, California. He also used the player's identity and personal information to order 'family and friends rings' engraved with Brady's surname.
He told the ring maker that the rings were a gift for the American quarterback's baby. 'Family and friends' rings are smaller replicas of the original ring that only players and NFL members can purchase. The news release affirmed that Spina intended to sell the fraudulent rings for profit. After sourcing the rings, he contacted the same broker from Orange County. Spina claimed that Brady had gifted the rings to his nephews.
The broker agreed to pay $81,500 for the rings and wired a deposit in three installments. However, he was skeptical about Brady having nephews at the time. He eventually backed out of the deal. Thereafter, Spina sold the rings for $100,000 to an NJ auction house in November 2017. The auction house, Golden Auctions, labeled the rings for resale and said they were authorized by Brady.
One of the counterfeit rings was auctioned for $337,219 three months after Spina had sold them to Golden Auctions. After the auction, Brady's representatives contacted the auction house, telling them that the Super Bowl champion had no connection to the rings. They also advised Golden Auctions to cease all communication regarding Tom Brady and the rings.
Spina to Pay $63,000 in Restitution to Ex-Patriots Player
United States District Court Judge David O. Carter sentenced Spina to prison. Carter also ordered him to pay $63,000 in restitution to the ex-Patriots player who sold him the original Super Bowl LI ring.
Assistant United States Attorney Erik M. Silber of the Central District of California had prosecuted Spina. The matter was investigated by the FBI's Art Crime Team. Meanwhile, Tom Brady's representatives did not comment on the issue.