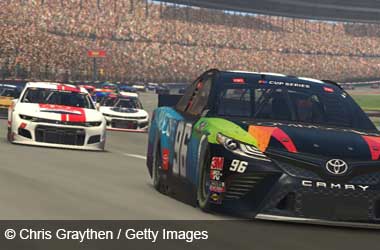 Las Vegas will be taking bets on virtual NASCAR races after the Nevada Gaming Control (NGC) decided to allow punters to place bets on the 2020 eNASCAR iRacing Pro Invitational Series.
NASCAR put together an event last weekend in a virtual rendering of the Bristol Motor Speedway and allowed sports books to offer virtual racing bets for the first time in Nevada.
This was Nevada's way of boosting the online sports betting market which is now virtually empty due to all major sporting leagues stopping their sporting events due to the COVID-19 pandemic. The virtual race contains a slew of NASCAR stars, such as Kyle Busch, Clint Bowyer, Dale Earnhardt Jr. and Denny Hamlin.
Television broadcasts of the main-event races have been successful so far, such as last Sunday's Food City Showdown, held in the virtual Bristol Motor Speedway. Nielsen Sports stated that the race in the virtual Texas Motor Speedway was watched by 1.3 million viewers, the highest viewer count for an eSports broadcast on television.
NASCAR on FOX
According to Scott Warfield, the managing director of gaming for NASCAR, the appeal of the eNASCAR Pro Invitational Series is global. Warfield added that the iRacing event provided sports fans with a welcome diversion from the ongoing COVID-19 pandemic.
Nevada's Sportsbooks Open eNASCAR Wagers
Nevada's sportsbooks are racing to offer eNASCAR bets to capitalize on the newfound interest in eSports among sports bettors. The Las Vegas betting market opened with Timmy Hill as the favorite, with 4-1 odds to win at William Hill sportsbooks. Earnhardt Jr. has 13-2 odds, while William Byron and Garret Smithley each garnered 7-1 odds.
Matt Metcalf, the chief of the Las Vegas-based sportsbook operator Circa Sports, stated they would love to offer eNASCAR bets soon, due to the massive audiences the events are drawing.
Nevada gambling regulators have long resisted allowing eSports bets. However, as major sports events across the globe are cancelled or suspended due to social distancing guidelines, many sportsbook are floundering, with few bets to offer to punters. In response, the NGC has sanctioned eSports bets, approving wagers on the games Counter-Strike and Dota 2, which recently held its 2020 ESL One Los Angeles tournament entirely online.
Sportsbooks in Nevada are compelled to inform all their eSports betting customers that there may be slight differences in iRacing simulators and the equipment utilized during the eNASCAR races. Official rules must also be prominently displayed on the website of either the event organizer or the sanctioning body.