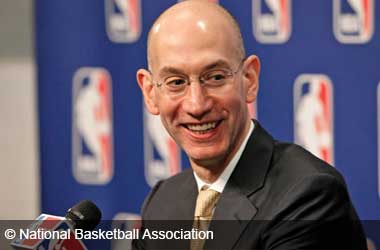 NBA Commissioner Adam Silver called for mutual respect between the league and China after they found themselves on opposite sides of the Hong Kong protests issue.
In 2019, Hong Kong residents gathered to conduct mass protests over the Chinese government. The general manager for the Houston Rockets, Daryl Morey, tweeted a statement for support for the protesters.
The Chinese Basketball Association (CBA) immediately dissolved all links with the Rockets and refused to carry Rockets merchandise from their stores. China has since banned the broadcast of all NBA games on television.
Silver stated at the time that it was within Morey's rights to speak on the issue and refused to sanction or condemn Morey's remarks, despite the controversy.
TIME
In the intervening months, both the league and Silver have been the subject of withering criticism on how they handled the incident with Morey. A number of US politicians have spoken out directly against what they perceive is the National Basketball Association's hypocrisy in vocally supporting social justice in the US, while keeping silent at what they say are China's flagrant human rights violations over its citizens and Hong Kong's.
The NBA has a massive financial stake in China especially as the season is set to continue soon. It is the largest market for the league outside the US, with a market pegged at around $4 billion. Silver estimated in February 2020 that the NBA could lose as must as $400 million for the disagreement.
According to Silver, since the disagreement flared up last year, the league has spoken to a number of Chinese partners, in an attempt to smooth over tensions. Silver has said that he feels that their relationship is starting to recover.
Silver admitted that the cultural barriers can sometimes be high, but hoped that the NBA and China can find mutual respect for one another to continue their lucrative relationship.
China Passes Controversial National Security Law
Silver's comments were made as China finally enacted a highly controversial national security law that covers Hong Kong. According to pro-democracy advocates, both in Hong Kong and the rest of the world, the new law will destroy any autonomy Hong Kong has from mainland China.
The new law threatens life imprisonment for those deemed to be a threat to national security, which has led to some companies that support democracy to withdraw their business from Hong Kong.