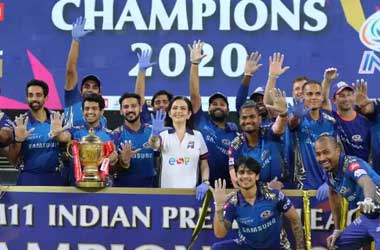 Bookmakers had the defending champions Mumbai Indians as the favorites to win IPL 2020 before the tournament started.
It turned out that the bookmakers were right with their pick as the Mumbai Indians created IPL history by winning their 5th IPL Championship on 10 November after a comfortable win over the Delhi Capitals.
Delhi Capitals batted first in the IPL finals and once again used the strategy of opening with Marcus Stoinis and Shikhar Dhawan. This surprise strategy worked well for the Capitals in Qualifier 2 against Sunrisers Hyderabad and played a big part in them winning that game.
However, the Mumbai Indians were prepared for this move and got rid of the dangerous Stoinis for 0. S Dhawan fell cheaply and
Ajinkya Rahane who came in at three also departed quickly. Captain Shreyas Iyer and Rishabh Pant rebuilt the innings but could only manage to get the Capitals to a total of 156.
India Today
The Mumbai Indians rely on their skipper Rohit Sharma to deliver during crunch games. Sharma who is recovering from an injury played a match winning knock, scoring 68 runs that took the game away from the Capitals. The Mumbai Indians cruised to victory and won the game with 5 wickets to spare.
The next IPL edition should start in April 2021 and without a doubt that Mumbai Indians are going to be betting favorites once again. The Mumbai Indians will no doubt retain their same squad and have R Sharma lead the side once again as he has done a fabulous job since taking over the captaincy.
IPL 2020 Awards List
Even though R Sharma played a great innings in the IPL final, the man of the match award went to Trent Boult who picked up 3 crucial wickets for the Mumbai Indians. The Most Valuable Player (MVP) award went to Jofra Archer from the Rajasthan Royals.
KG Rabada finished with the most number of wickets in the tournament and was awarded the purple cap while KL Rahul finished with the most runs in the tournament and was given the orange cap. The emerging player of the tournament award went to young Devdutt Padikkal who scored 473 runs in 15 games for the Royal Challengers Bangalore.
The most sixes in the tournament award went to Ishan Kishan from the Mumbai Indians. The 2020 IPL Champions were also recipients of the IPL fair play award.