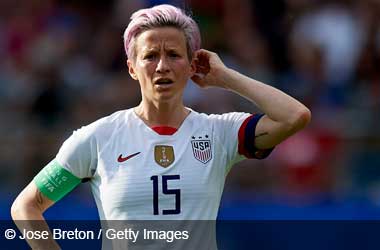 A lawsuit filed by U.S. female soccer superstar Megan Rapinoe and the U.S. Women's National Team (USWNT) against the U.S. Soccer Federation (USSF) for unequal pay has been dismissed by Federal Judge R. Gary Klausner.
The USWNT's lawsuit hinged on claim that the members of their team were discriminated against based on sex, leading to marked difference in how they were compensated relative to U.S. men's soccer team.
According to Judge Klausner, the central claim put forward by USWNT was backed by insufficient evidence based on documents presented by USSF.
Judge Klausner went on to rule that the USWNT were actually paid more than the men's team, both cumulatively and per-game.
Rapinoe appeared undeterred by the setback, saying in a tweet that she and her teammates will not stop fighting.
We will never stop fighting for EQUALITY.

— Megan Rapinoe (@mPinoe) May 2, 2020
A USWNT spokesperson echoed Rapinoe's sentiments, saying that they were very disappointed in the Court's dismissal of their case, and pledged to continue fighting for equality in pay.
USSF Argues that USWNT is Paid More
One key contention point of the USSF is that the USWNT were not paid less than the men's team. In fact, according to former USSF President Carlos Cordeiro, they have remunerated the USWNT more in the last decade than they did the men's team.
Cordeiro stated that the total payments made by the USSF to the USWNT were $34.1 million. This was comprised of both regular salaries as well as bonuses tied to in-game performance while the total amount provided to the men's team over that same period of time was $26.4 million. Furthermore, Cordeiro argued that these figures did not even account for the significant value of a number of benefits allocated toward the USWNT specifically, and not offered to the men's teams.
ESPN FC
The USWNT may have a stronger claim for unequal pay against FIFA, the governing body for world football. FIFA has had a long and extensive history of compensating men's teams in their contests with substantially higher prizes compared to women's teams. However, many argue that FIFA's actions are entirely defensible, given that they base their prize determinations on TV ratings drawn by the teams—men's teams are much more popular than women's teams on the World Cup stage.
Joe Biden Tweets Support for USWNT
Democratic presidential candidate Joe Biden expressed his support for the USWNT lawsuit. Biden stated that the USSF must ensure that men's and women's teams are given equal pay, noting that the USSF depends on U.S. support for their World Cup funding.
To @USWNT: don't give up this fight. This is not over yet.

To @USSoccer: equal pay, now. Or else when I'm president, you can go elsewhere for World Cup funding. https://t.co/XK6t9oM94k

— Joe Biden (@JoeBiden) May 2, 2020