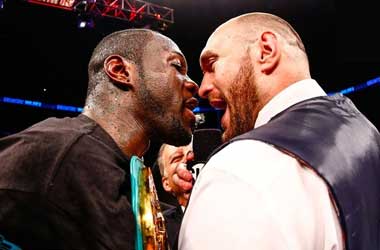 Deontay Wilder recently criticised the changes made by Tyson Fury to his coaching team, less than a month away from what will be one of the most anticipated heavyweight rematches between two of the greatest heavyweights in recent times.
The bout is scheduled to take place on February 22 at the MGM Grand in Las Vegas.
Their first fight was an epic encounter that took place in 2018 and resulted in a split-decision draw that reaped controversy from boxing fans and observers; Fury was knocked down twice, but outboxed Wilder in other rounds.
Fans have been eagerly waiting for a rematch and will not have to wait very long to see it happen.
Fury has recently made a number of changes to his coaching team. He replaced his previous trainer Ben Davison with Sugarhill Steward, Emanuel Steward's nephew. Fury has also recruited Andy Lee and George Lockhart, a nutritionist who is part of the Conor McGregor team.
Boxing fans and observers were perplexed by the overhaul of Fury's coaching team, especially with the Wilder fight on the horizon. Foremost among the critics is Wilder himself, who stated outright that Fury has sabotaged his own goal of becoming a two-time champ.
PBC ON FOX
Wilder said that the Gypsy King has been unable to showcase his power in bouts, often winning by decision. Deontay on the other hand has had an extensive history of knocking people out, even those renowned for their granite chins like Luis Ortiz. Wilder has described himself on multiple occasions as the hardest puncher in boxing history, an opinion justified by his 97% knockout rate, the highest in history.
Given Fury's lackluster punching power, Wilder said, it would be a mistake for him to mess with his training camp, as he cannot win without a well-defined strategy in the ring, something that would be jeopardised by replacing tested and proven team members in search of something new.
Fury Plans to Put Wilder on the Defensive
Fury disputes this characterisation, stating that underestimating his punching power was a mistake 20 of his knockout victims made to their detriment. While Fury admits that Wilder's punches are some of the most powerful he has faced, he claims that his heart and determination are second to none.
The Gypsy King has claimed that his key tactic will be to go on the offensive against Deontay Wilder, in order to put him on his back foot, reducing his power, while setting Fury up for the knockout blow.