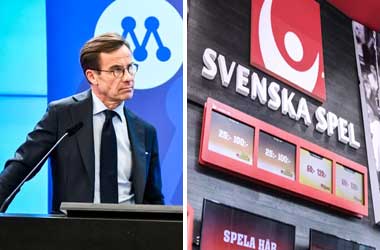 Summary
The Moderates will privatize Svenska Spel if they win in the upcoming election
The party will also reverse the existing adjusted moderation requirement for marketing
The party is part of a right-wing bloc challenging the ruling government in the September election
Sweden's Moderaterna (Moderate) Party under Ulf Kristersson will push for the privatization of the competitive part of Svenska Spel, along with major reforms to the country's gambling laws.
The Moderates are part of a four-party right-wing bloc that will attempt to take over the government which is currently headed by Social Democrat Prime Minister Magdalena Andersson.
With just three months to go before the General Election in September, Moderaterna has bared its plans for the country should it emerge as Sweden's next ruling party. The gambling industry will be among the key areas the party will look into, putting particular focus on dividing Svenska Spel into two individual entities – one for monopoly gaming, the other for competitive gaming.
Under the proposal, Svenska Spel will continue to monopolize the country's lottery and keno operations, but its competitive part, which covers sports betting, will be privatized.
Sweden's online gambling trade association Branschföreningen för Onlinespel (BOS) has welcomed the party's plans, with Secretary-General Gustaf Hoffstedt maintaining that it is inappropriate for a state to run a commercial gambling business and become an active player in the regulated market itself. The government should instead focus on setting rules for commercial gambling companies and ensure compliance, he added.
The Sweden Democrats are also backing the proposal, which means the country's two largest opposition parties are now united in pushing for the sell-off of Svenska Spel's competitive portion.
Reversal of Adjusted Moderation
Among other aspects in the industry that The Moderates will take into consideration is advertising. The final version of Sweden's major gambling reform bill, which was published back in March, includes a requirement for "adjusted moderation" in marketing. While this restriction is less severe than the initially proposed ban on gambling ads during certain hours, the Moderaterna party raises concern over the government's attempt to introduce a risk classification the back road via the new "adjusted moderation" measure.
The liberal-conservative party said it's still too early to roll out changes in terms of marketing given that practice has just been established. Therefore, it would look at reversing the policy to allow highly-compliant licensees to promote their products and services at a greater extent. The Moderates are also against putting a cap on bonuses offered by operators; a move the party said will prevent market erosion.
The party stated further in its mandate that all of its recommendations re in line with the findings of the Gambling Market Inquiry (swedish) conducted in 2020 by the Swedish Gambling Market Commission (Spelmarknadsutredningen).