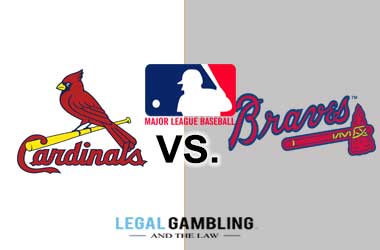 The St. Louis Cardinals and the Atlanta Braves kick off a three game set tonight in St. Louis that will extend throughout the weekend.
The Cardinals sit at 25-24 and after a 20-10 start, have gone just 5-14 in their last 19 games. The Chicago Cubs swept the Cardinals in a three game set and ever since then, the Cardinals have been spiraling down hill.
The Braves are 7-3 in their last 10 games and are starting to play good baseball as they have a season record of 28-23. Both teams have been struggling a bit on the pitching side of things and this is a chance for one team to make it right.
The Cardinals are favoured by 1.5 runs in this one by GTBets.
Cardinals Look to Start Winning Again
The Cardinals have a team ERA of 4.42 which isn't very good. They haven't walked a ton of batters, and they are striking quite a few out, so a lot of that ERA can be attributed to just simply bad luck. The Cardinals get no favours tonight as Miles Mikolas takes the mound. This season he holds a 4.88 ERA and has a record of 4-4. Through his 55.1 innings pitched this season, Mikolas has give up 10 home runs which is just under an average of two a game.
That might seem like a lot, and it is considering he has also walked just 10 batters, but the Braves starter tonight has also given up 10 homers on less than half the innings pitched. The Cardinals are hoping to keep the ball in the ball park tonight, which would lead to a win.
Braves Try to Send Cardinals to .500
The Braves are a team full of young talent. This season, they are starting to realize the success that comes with having all of that great talent. But just because you have talent, doesn't mean that it always goes well. The braves have 18 ERA of 4.19, which is about MLB average.
The bats are keeping Atlanta alive for now, but eventually there will be some regression and the pitching will need to step up. Tonight, Mike Foltynewicz takes the Mound. Thus far on the season he has not had a good year. He is winless with a 6.91 ERA. He is really going to have to miss bats tonight if the Braves want to have a shot at winning the game.
Who Takes the First Game
Both of these teams have been up and down this year. St. Louis is currently the club that is struggling the most, but the Braves have the potential to go on those cold streaks as well.
Tonight, the game is going to come down to who is offense gets rolling first. The Cardinals are a strong team at home, so you would suspect that they have the advantage. But, I think that the Braves come out hot and take down the Cardinals. Take the Braves to win.