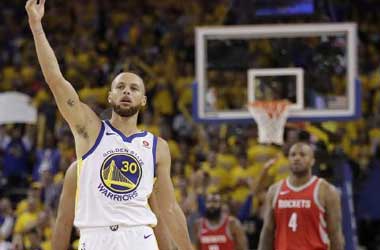 The Golden State Warriors (GSW) and Houston Rockets entered Game 3 on Sunday with the series tied at 1-1. Both teams knew that this was going to be a crucial match and they would need to fire on all cylinders to take a series lead.
Defending champions GSW played outstanding as both their defense and offense came good in Game 3 and they overpowered the Rockets to finish 126-85 and take a 2-1 series lead. The Rockets depend heavily on James Harden and he had an average game scoring just 20 points. His reduced scoring was due to a great defending and a solid game plan from GSW. Coach Steve Kerr has done a great job in analysing the first two games and coming up with a plan to reduce the effectiveness of Harden. The Rockets star looked frustrated as he was unable to deliver for his team.
While Harden had a poor game, Stephen Curry stepped up his game for GSW and finished with 35 points, 6 rebounds and 1 assist. The two time MVP has been hampered with injuries of late but looked all class in Game 3. He was well supported by Kevin Durant who finished with 25 points, 5 rebounds and 6 assists.
MLG Highlights
Game 4 – Could Be A Series Decider
The Warriors have shown in the past that they can sometimes take their foot of the gas and allow their opponents to make a recovery. Kevin Durant has gone on record to say that Game 4 could turn out to be a series decider and that GSW has to keep up the same intensity.
Klay Thompson has struggled with his offensive game and has tried to make up by playing defense. He knows that he will have to fire in Game 4 to help the Warriors go 3-1 up.
In a statement, Thompson said
What do we do? Don't be complacent. It's really that simple because it's easy to be on your high horse right now, but tomorrow is a new day and they're one game away from taking home court again. There's no time to relax.
The Rockets will have to work on their defense and come up with a better game plan to counter Stephen Curry and Kevin Durant. Game 4 is scheduled to take place on Tuesday.