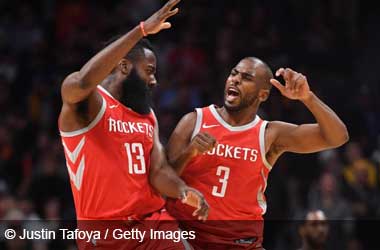 The 2018-2019 NBA season just got over and things are already heating up for the new season. While rumours are floating around about possible trade-offs and whether Kawhi Leonard will stay with the 2019 Champs the Raptors, there is also news about a lot of unrest in the Houston Rockets camp!
We have seen that for any team to be a real formidable force in the NBA, you need two top players at best to fire.
James Harden and Chris Paul are arguably the best players that the Houston Rockets have at the moment but all is not well between the two according to rumours floating around the internet.
It appears that both players have been at loggerheads during the last season and did not speak to each other for close to two months. The rumoured tension between the two players has not made the Rockets dressing room a nice place to be and it has been hard on the rest of the squad.
ESPN
Sources close to the two players say that it has reached a point where the relationship is over and cannot be fixed. There are also reports that Chris Paul has requested to be released as he does not respect James Harden and the feeling is mutual.
Daryl Morey Suggests Paul Will Stay
Whether these reports are true or whether it is fiction, it is hard to tell as of now because Rockets GM Daryl Morey came out and confirmed that there is no such dispute between the two players and Chris Paul will stay with the Rockets and play the next season. Chris Paul also took to social media to rubbish such rumours of a reported fall out with Harden and said it was news to him.
Harden is reportedly upset with Paul due to his frequent injuries and missing out on crucial games. Paul only played 58 regular season games and during this time his performance also dipped scoring at just 35.8 percent from three point range and around 42 percent from the field.
The Rockets ended up losing to the Golden State Warriors during the 2018 West Conference playoffs which Paul missed due to an injury. It is imperative for the Rockets to sort out the issues between Harden and Paul before the new season begins as only then will they have a serious chance of making it to the NBA finals.