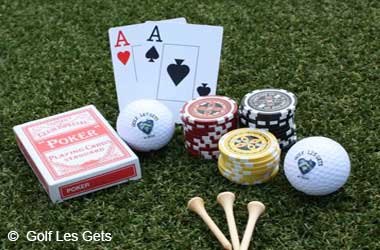 Gaming developers have their hands full when it comes to developing and releasing new games to the market be it online or offline.
The multi-billion dollar gaming market is constantly involving and it is a huge challenge to keep coming up with innovative and captivating games that keep gamers engaged and coming back for more.
A gaming developer in Michigan has decided to think out of the box and come out with a very unique game that could turn out to be the next big thing in the market. They are a group of golf and poker enthusiasts in the city of Livonia who have decided to combine golf and poker and come out with a new game.
The Players Golf & Poker Room has come up with a unique set up that enables both poker tables and golf simulators to run simultaneously. Customers may choose to play either of the two games or participate in both games as well.
Manager Mark Kalaj said the indoor set up catches the interest of golfers as it still allows them to enjoy the game especially during the months when the weather in Michigan isn't very favourable for outdoor golf.
Two golf simulators are set up on one side of the complex, catering to both pros and beginners. Customers may compete against each other in a Topgolf style or just perform a simple practice. If customers want to take a load off from playing golf, they could go towards the opposite side where four poker tables are built. There's a bar in between where players can order food and drinks to maintain their energy levels.
The simulators take people to some of the world's most famous golf courses, such as St. Andrews in the UK and Pebbie Beach in California, with customers playing like they were in the actual venue.
Play Poker For Charity
The most awesome part of the entire set up is probably the poker side which allows customers to play for charity. Veterans groups, high school bands, and other service organizations in the area all benefit from the money raised by players from playing poker games.
The golf simulators, which are made by golf simulation tech firm High Definition Golf, débuted on Nov 14, after the poker room was opened two weeks ago. Kalaj said the business aims to provide a unique experience for both golfers and poker players who want to have some real fun in an accessible location. Kalaj said they have found a good niche which is quickly gaining a lot of popularity in the state.