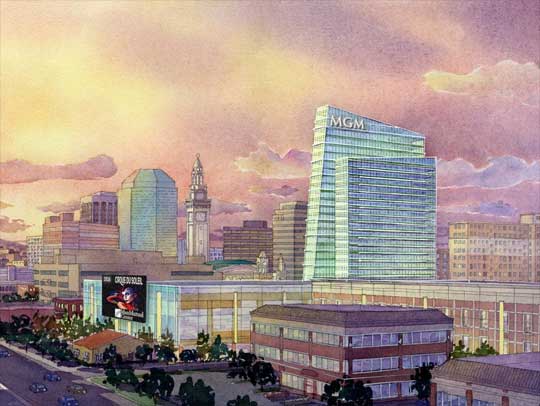 MGM Resorts are in the process of constructing a mega-casino resort in Springfield, Missouri and neighboring states such as Connecticut initially feared that MGM's Springfield casino would hurt their state gambling revenues as it would cause Connecticut locals to cross the state border and head over to Springfield.
The state government of Connecticut along with the state gaming commission has decided to mitigate the threat of the MGM Springfield casino by allowing a new casino to be constructed near the Massachusetts border.
The Foxwoods-Mohegan Sun tribes have decided to start a joint venture and launch a new tribal casino along the state border with an objective of keeping Connecticut's gamblers within the state.
This new casino proposal along the Massachusetts border has not gone down well with William Hornbuckle who is MGM Resorts International President and has stated that MGM was not happy with the new casino proposal and would fight back. Hornbuckle did not state specifically what action MGM planned to take nor is it clear how MGM could prevent the Foxwoods-Mohegan Sun casino from operating. While MGM may not be able to stop the proposed casino, a lawsuit could very well delay the launch of the proposed casino.
Mohegan Tribe Chairman Kevin Brown and Mashantucket Pequot Tribal Nation Chairman Rodney Butler stated that they were not intimidated by threats from MGM officials and were confident that their casino proposal would prevent MGM Springfield from poaching gambling revenue from Connecticut.
In a joint statement, the tribal leaders said
Simply, this is about siphoning revenues from Connecticut to benefit a Las Vegas company while at the same time moving thousands of existing jobs from Connecticut to Massachusetts. That's why the tribes, the legislature, and the governor have committed to developing a solution that protects Connecticut.
The MGM Springfield casino broke ground a couple of months ago and Massachusetts had set a 2017 deadline for the casino to be up and running. However, MGM recently filed an extension request with the Massachusetts Gaming Commission stating that it expected delays to with the project due to the I-91 viaduct reconstruction project and said the casino would most likely go live in 2018.
The Foxwoods-Mohegan Sun is a smaller facility and is expected to be completed a lot quicker. If everything goes as per plan and there are no legal complications to the process, the tribal casino could be opened long before the MGM Springfield casino goes live.