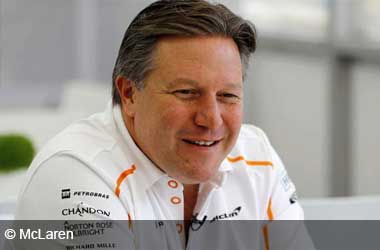 Zak Brown, the CEO for McLaren's Formula 1 (F1) team, has announced that he will be pushing for changes to the point system currently in place once the season resumes. F1 is currently on hiatus after cancelling nine Grand Prixs, following the positive test of an employee for McLaren F1 for COVID-19 in March, just before the Australian Grand Prix kicked off.
Brown is pushing for F1 to impose no penalties for any team that is forced to withdraw from races due to unforeseen circumstances, such as those brought about by their employee's positive coronavirus test. For Brown, F1 should protect teams from similar events by imposing a standard that states a precise number of results to count for the title, similar to rules instituted from 1950 to 1990.
F1 must consider tinkering with their format for a race weekend this 2020 if it is to come back stronger than before, stated Brown.
2020 F1 Calendar Still Unclear
Leaders of F1 are currently trying to untangle the logistics of planning its 2020 calendar. Ross Brawn, the managing director of F1 says that it is currently looking like October is the earliest F1 can manage to resume its racing operations. This makes setting up eight races to create a World Championship season a tight proposition. Brawn has also stated that any changes to F1's 2020 calendar will be made for no other reason than necessity.
Sky Sports F1
Brown has affirmed that McLaren's decision to withdraw in Australia will be carried over in future events, to ensure the safety of all employees. However, if F1 does decide that the COVID-19 related issues have successfully been confined and ultimately continues with their race schedules, they will accept that decision and proceed as per plan.
The number of races tallied per F1 season has fluctuated over the past four decades of its operations. In 1950, four of seven F1 races were tallied per season; in 1960, six of ten races were tallied; in 1970, 11 of 13; in 1980, 10 of 14. In 1990 and every season since then, 11 out of 16 races were tallied by F1.
Brown contends that many F1 groups will not have the ability to resume their operations once F1 decides to conduct races again. However, Brown also expressed that he trusted F1's leadership to make the right decision, and that a new schedule would be feasible if carefully constructed.