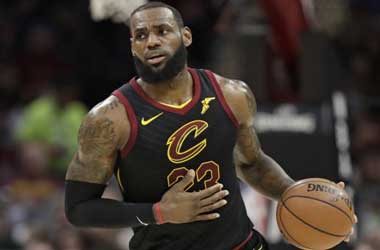 The Cavaliers were outplayed and outclassed in Game 1 against the Boston Celtics and now find themselves 1-0 in the Conference Finals. It is surprising to see the Cavaliers outclassed when they have LeBron James – one of the greatest players to have ever graced the courts.
The Cavs have made it to the Conference Finals because King James has stepped up and put in some unbelievable performances to take his team forward. However, he had a poor showing in Game 1 and that showed in the final scoreline which read 108-83.
Cavs fans will be hoping that it was just a bad night for James and he will be back to his best in Game 2.
However, Marcus Morris from the Celtics does not believe that James had a bad night. Morris believes that the Celtics defended really well and neutralized the best player in the league. Morris was not shy in claiming that he felt he was the best player in the league to defend James apart from Kawhi Leonard.
LeBron James entered the series with an average of 34.3 but could not score more than 22 points against the Celtics in Game 1. Morris did a great job restricting James to just 15 points – that's 5/16 in scoring and saw James register 7 out of the 9 turnovers for the Cavs. Morris went on to finish with 10 rebounds and 21 points making it his first career playoff double. He is confident that the Celtics will continue to do well against James in Game 2 as they have a great strategy.
MLG Highlights
LeBron James Not Concerned About 1-0 Loss
James admits that the Celtics had a great strategy in restricting him and Morris did a good job in defending. However, King James is not too concerned about his poor showing in Game 1 or the fact that the Cavs are now 1-0 down.
In a statement, James said
But for me, there's never no level of concern no matter how bad I played tonight with seven turnovers, how inefficient I was shooting the ball. I'm just as confident going into a series whether it's a 0-0 series or I'm down 0-1.
The Cavs will get a chance to even the score in Game 2 which is scheduled to take place on May 16.